11 Reasons Why Forex Is So Popular & Interesting?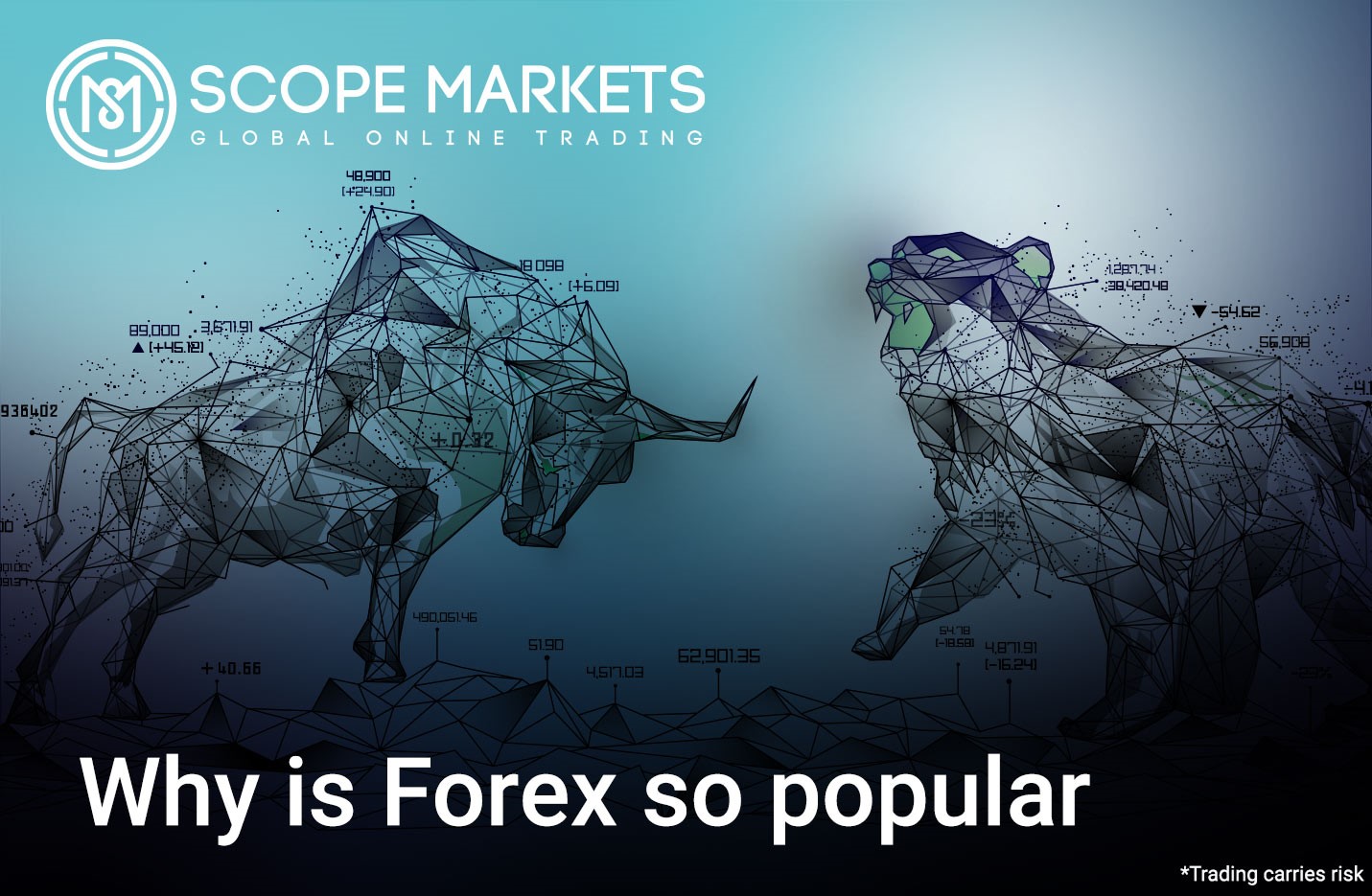 The popularity of the Forex market and trading has generally increased in the previous 5 years. You may find out the growing popularity because the number of Forex traders has increased up to ten million in the previous 5 years. Here are 11 reasons why Forex is so popular.
The possibilities are that you probably came across Forex trading and liked it or you remember some people mentioning how much cash they make with Forex trading.
So, let us discuss what Forex trading is and 11 reasons why Forex is so popular?
Forex Trading – what is it and why Forex is so popular?
Forex or FX trading is a kind of trade, including the exchange of a currency for another as many currencies have an increased value compared to others. Forex trading capitalizes on this value diversity and traders make a profit from the variation between the points of entry and exit of a currency in the Forex market.
Forex trading is a huge market valued at $5 trillion. This market is generally composed of diverse authorities, banks, organizations, and investors. But why Forex is so popular nowadays?
Big multinational trade organizations, financial companies, hedge funds, and various companies need foreign currencies to run their trades. For traders not aware, a currency is generally owned online for other currency, making a consistent flow of reserves. In different words, Forex is the international marketplace for currency trading.
11 reasons why Forex is so popular
Forex has many benefits to provide all kinds of traders, and there are many reasons behind trading Forex online. Some of the main reasons why Forex is so popular are now discussed in detail here.
Simplicity of access
First, the reason why Forex is so popular is due to its online existence. Forex trading may be usually performed by anybody who has a system and internet connectivity, which creates it almost accessible for anybody who wishes to be online.
As volatility is essential and it actually describes why Forex is the most suitable market for trading, we must not neglect accessibility. Although Forex is a volatile market, and it's likely to intercept many market movements, this market is very accessible compared to the different digital trading markets. Forex trading online can be usually initiated with as little as $100. If you are beginner, you may want to read this.
What's also best related to the accessibility of the Forex market is that you may sign up for your trading account via your system in an easy way. Many retail Forex brokers run online, and all you need to begin trading with Forex is to sign up, provide your documents, and deposit in your Forex trading account.
Forex trading hours

Since Forex trading is generally performed on an international level, it stays open twenty-four hours a day. Also, it is not like a share market. You may also make Forex your side business since many individuals do so. Later, aside from your regular work, you can reach home to an ever-active Forex market and make some extra cash.
Diverse chances
The most effective attribute of Forex trading is the possibilities of profit that it offers. The third reason why Forex is so popular is the increased diverse chances for profit.
1. In Forex, you may sell capital without holding it. Say, if you hold $10,000 in your trading account, and you wish to trade the Euro/Japanese Yen currency pair, you may get profit from this pair by only going low on this pair and trade Yen for Euros, whereas your true account surplus is in dollars.
2. There are diverse strategies that you may put in place, for example, leverage. Forex intermediaries let traders get various currency pairs and Forex leveraging. Earlier Forex traders, individuals who wished to trade in Forex required to have an abundant sum of cash in their accounts. In Forex leveraging, a stockbroker provides you access to manage a big amount of cash in the market over what you hold in your bank account. This increases your possibilities of large profits.
Generally, the standard leverage in the forex market is 1:50, but there are conditions where Forex brokers provide up to 1:500.
With a leverage proportion of 50, a person with a margin sum of $5,000 can start at the highest leverage trade position of up to $250,000.
3. You probably know that the easy trading rule is to buy at a low position and sell at a high position. In Forex, you can also trade assets without owning them – this is generally called going low (or short trading).
Let us verify this opportunity with an example. Let us assume that you hold 10,000 EUR in your account, and you wish to exchange with the US Dollar/Japanese Yen pair. Without actually buying both US Dollars or Japanese Yen, you may only go low on this pair and trade JPY for Dollars, whereas your true account balance is in Euro.
4. You can also do Forex trading on a margin, which indicates the usage of leverage. With the aid of this leverage, you may trade a much larger sum than your deposit amount. This is together a benefit and a loss at a similar time since your possible gain may be several times larger than your deposit amount, but your possible loss can be much bigger as well.
Market volatility

The method by which Forex trading works is straightforward. You purchase an asset's entry value and keep it open until it doesn't approach a profitable price. A market that is very unstable gives more possibilities of profit if trading is usually done the proper way and that's why various individuals are choosing it.
Volatility in the Forex market is very high, and you may hope daily to view a price change for approximately 50 to 100 pips on any of the major Forex currency pairs at any time of the week. This adds up to a possible loss or profit of 500 to 1,000 US Dollars if there is trading on a single group, and the valued currency is the US Dollar. Traders always look for unstable markets and tools. That's why volatility is one of the key advantages of the Forex market.
Different trading technologies
Technological advancements make our existence effortless, and a similar thing is correct with online trading. There is an increasing number of Forex trading interfaces doing a great job every year, and there are also more frequent updates for authorized trading software. When compared to different digital trading markets, technological changes are one of the main reasons why Forex is one of the most profitable markets to buy or sell.
Besides this, retail Forex software is also enhanced by 3rd party software service providers, who provide different add-ons and plugins for the very well-known trading interfaces, such as MT4 and MT5. That is why Forex is the best approach when you want to trade online.
Forex regulation

The 6th reason why Forex is so popular is regulation which is an important aspect of the industry. Forex trading is generally regulated, and various Forex brokers are monitored by one or more financial authorities. This shows that Forex is one of the most reliable markets to trade, even though this only refers to controlled brokers.
Rewards and promotions

Forex brokers offer large trading amounts because of the leverage they provide. That's why it is likely to get compensated with a bonus when creating a trading account in Forex. Also, brokers also tend to provide other various incentives.
Growth in Forex

The 8th reason why Fores is so popular is growth. It might take some time to learn Forex trading, but once you learn, a completely novel world of possibilities unfolds for you. You can grow as an account handler and start making profits not alone from trading but also as a percentage for handling accounts.
Forex trading groups or communities
Social networks turn out very popular these days, and since Forex is one of the largest markets, it also involves a huge number of trading panels and networks. In this way, you gain experience from a network of Forex traders and making Forex trading the most friendly and social market to trade.
Training materials
While Forex is one of the most popular markets to trade, many novice traders create trading accounts regularly. To ensure these traders trade well, Forex stockbrokers provide different training materials to them, thus increasing the awareness for beginners. However, most Forex brokers offer trading materials to accomplished traders and other types of traders with different knowledge levels.
Trading situations
As our last reason why Forex is so popular, traders need to understand that trading situations are essential for expert day traders. Payments and spreads in Forex are important, making this a challenging and interesting market to trade. Indeed, very often, it's likely to undergo only 1 or 2 pips spread in Forex. Forex trading is an inspiring, engaging, and informative process. Not only it provides you with a chance to execute trades online, but it also teaches you about global events. Forex trading has become one way to capitalize on market movements and economical events moving global assets on a daily basis.
Conclusion – 11 reasons why Forex is so popular?
In summary, Forex trading is a very lucrative side trade and can add a significant increase to your monthly income. It is important to be aware of why Forex is so popular if you're a trader. But, you must get a fair knowledge of how the exchange works. Also, it is imperative to know that there are a few possibilities of loss and many of success.
References: https://www.novinite.com/articles/199972/What+Is+Forex+Trading+And+Why+Is+It+Becoming+So+Popular%3F#:~:text=Ease%20of%20Access,who%20wants%20to%20do%20it
https://medium.com/the-rebus/why-is-forex-trading-so-popular-dc4234b8f147
https://admiralmarkets.com/education/articles/trading-psychology/top-10-reasons-why-forex-is-the-best-market-to-trade
---
Disclaimer: The article above does not represent investment advice or an investment proposal and should not be acknowledged as so. The information beforehand does not constitute an encouragement to trade, and it does not warrant or foretell the future performance of the markets. The investor remains singly responsible for the risk of their conclusions. The analysis and remark displayed do not involve any consideration of your particular investment goals, economic situations, or requirements.