20 Most Traded Currencies In Forex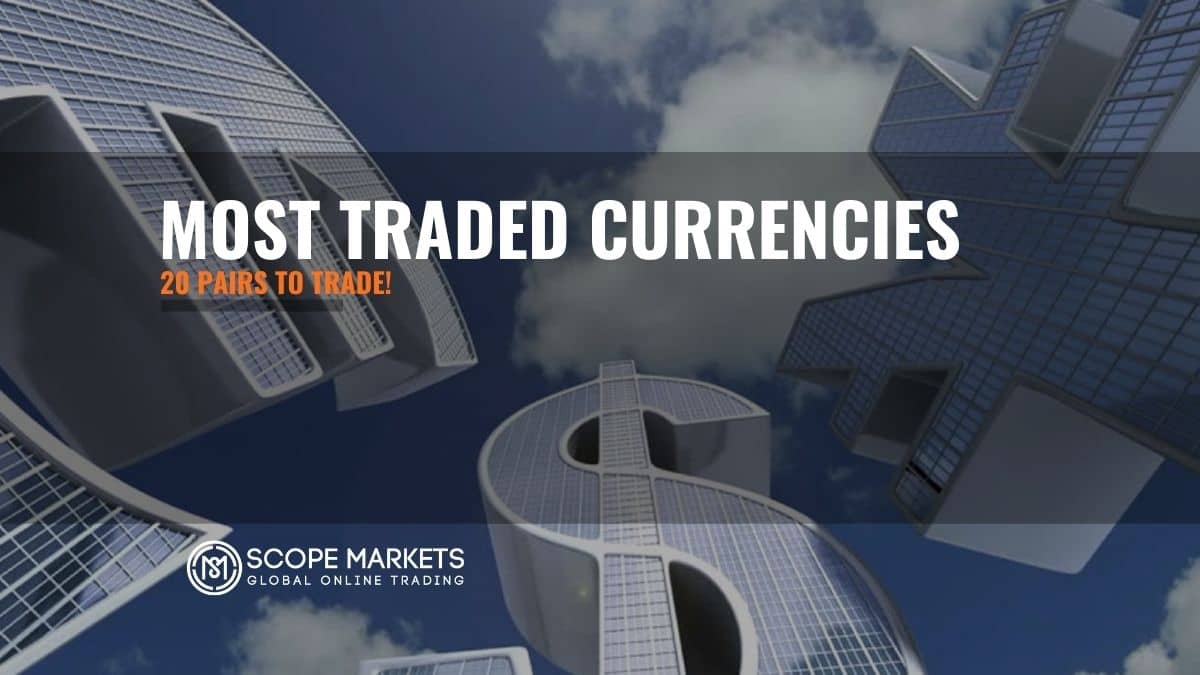 In the forex market, there are 160+ currencies from 150+ countries that people trade. If we talk about the group of currencies, there are some categories.
Before diving into the list of best 20 most traded currencies, let's have a quick look into them. The first category is the major classification. In this, currencies that people often trade like USD/JPY, EUR/USD, GBP/USD, and more.
The major currency pairs fall under the G10 category. Beginners who are not aware, G10 is the collection of the world's most active currencies.
The second currency category is which is quite popular is a minor category. In simple terms, minors are those which has two currencies from the major group except USD. For example, the currencies may include GBP/EUR, CHF/JPY, and more.
And, in the third currency category which is exotic, it contains those pairs that only a few people trade. These pairs include currencies like USD/TRY, USD/MXN, and more. These exotic pairs are not in the mainstream transaction.
On this note, let's have a glance at the popular currencies that are popular among the traders.
Note: Market Hours for forex pairs is from 17:00 EST* (Sunday) to 17:00 EST* (Friday).

* MT4 Server Time (GMT -4)

1. USD or United States' Dollar
When we talk about popular currencies, the US dollar makes its first position. This fiat currency by the USA's Federal Reserve is one of the stable ones. Talking about its rank, this currency enjoys the first position in the trading list. According to reports, the USD's daily average trading volume is near to $2.9 trillion.
Many traders call it the most secure and dominating currency across the globe. As the US is quite ahead in trade and finance, this helps the dollar in retaining that position. As compared to other currencies, there are millions of people who trust this currency.
There are many other countries apart from the USA that uses USD as the main currency. The other governments use US dollars to do financial transactions. Also, in financial payment, the US dollar is also used in international projects.
USD is also the international currency reserve for many countries. The government uses this reserve to invest money in ventures and development work. When it's about volume, a report says that the USD makes 63% of the total currency.
Another reason for the demand for the currency of the USA is demand and supply. Many factors like commodities, the performance of the economy affect the US dollar.
2. The Euro
In the second position, Europe's Euro is in the group of powerful currencies in this list. European Central Bank or ECB handles for issuing this currency. Coming to its trading volume, investors use Euro with a valuation of around €1 trillion daily. It's the second-highest trading volume after the USD.
The main factors which power this currency are the wide circulation in many counties. Under the Eurozone, there are many countries that make it active.
According to the data, the Euro is second with a volume of around 20%. Several factors that affect the currency are political conditions, etc.
Apart from the trading volume, there are many points that make the Euro a strong currency. Coming to factors that push the performance are the release of GDP reports, elections. Other important decisions made by the government also affects this currency. If you want to start forex, Euro is among the best options.
3. Japanese Yen
Yen is one of the largest currencies in the forex market as it holds a very special place. The Yen is around $550 billion in daily volumes which is higher than many other countries.
For those who don't know, the Yen is the third-largest reserve with the part of around 4.905% of the total reserve. Bank of Japan which is also known as BoJ handles and issues this bill.
Yen currency enjoys power from strong government planning, good economy, and manufacturing sectors. Japan is famous for manufacturing and this makes the Yen powerful and profitable. Many traders prefer to include Yen in their trading practices.
Traders' major focus relies on Japan's GDP reports, performances, and announcements. As Japan is still ahead in development and research, it makes this currency popular.
4. Great Britain's GBP
This currency runs in Great Britain and it's other territories. Due to its popularity, this currency is on number four and many traders prefer this currency in forex.
The sterling is around $427 billion in the daily trading volume. This makes 4.6% of the total currency resource.
This currency is popular because of the country's stability through the years. Great Britain's job numbers, GDP, official notices make this a strong player.
This currency is popular because of the country's security over the years. Great Britain's job numbers, GDP, notices make this a strong player.
But the currency under the control of the link between Europe and the UK. So, the traders also consider news among the two nations. The future valuation of this currency is not clear. This is because of the ongoing discussion among the EU and the UK.
5. Australian Dollar

Australian dollar comes on the fifth number when it comes to forex trading. When talking about the volume, this dollar holds a capacity of approx $223 billion a day. Many people focus on this currency due to its high output.
This dollar is run by Australia's Reserve Bank or the RBA. The total this currency covers worldwide is approx 1.79%. It is on position six when looking world wide.
This currency of Australia is popular due to various factors. Australia is ahead when it comes to commodity and other things. Australia has good terms with all countries and it makes the position of the currency stable.
Australia imports coal, copper, and other commodities that give power to their currency. Traders consider this currency as among the safest to trade with other pairs.
6. Canadian Dollar
Bank of Canada which is also known as BoC handles and issues this popular currency. Canadian dollar enjoys the sixth position due to many reasons. This currency has a daily volume of approx $169 billion and that's why it's many traders' preference.
Globally, Canada's dollar has a reserve of around 2% in the international listing. The reason for the stronger position is active imports. Canada supplies energy resources, food items, clothing, and more.
If the value of import increases, the price of the Canadian dollar also increases. That is the reason why many traders prefer this currency in forex trading. Another main reason for the high trading volume is relations with the USA. So, traders often traders USD/CAD currency pair.
7. Switzerland's CHF
The Swiss National Bank or SNB manages and issues this popular trading currency. This comes in popular trading currencies among traders and it comes on the spot 7.
Coming to its daily trading capacity, it's about $166 billion and many traders view it as a safe currency to trade. On the world wide list, this currency covers around 0.19% which is a good signal. This currency comes on position eight on the global list.
Switzerland is among popular places and it has a strong position due to the tourism business. This country is good in banking and they are popular worldwide. As this country is ahead in some experts, traders prefer this currency anytime.
8. China's Renmimbi or CNH
Don't scratch your head while wondering the name of this currency. This is likewise recognized as the Yuan and it is the capital of the People's Republic of China. This is a powerful currency that stands on positon eight on the list.
Coming to the daily trading average of this currency, it is near $143 billion and the worldwide share is about 1.2%. It's the seventh most popular currency in the globe.
This bill is still popular despite being in a growing category. For those who don't know, CNH and USD were together for some time but it changed later. This comes real when the People's Republic of China made changes in policy.
Yuan is under the top currencies that traders prefer to trade in the market. The reason for the popularity of yuan of high volatility and trust over the government.
9. Hong Kong's HKD
The Hong Kong Monetary Authority manages and handles this famous trading currency. This dollar comes on the position nine on the list and it has many reasons behind it. The daily trading volume of this currency is around $119 billion despite not being a part of the major list.
The HKMD handles only ten notes and China comes into the role for the other currencies. This is under the command of China's bank, HSBC, and Standard Chartered.
As Honk Kong is quite in the news for many reasons, this helps the currency to get a boost. On the worldwide level, this comes on position 13. Even after the political situation, traders trust this currency.
The activity in this currency is high to other currencies on the list but still, it's a good choice. Experienced traders often use this currency to make more capital.
10. New Zealand's Dollar
Government Bank of New Zealand runs this currency and it's among the popular between the traders. It comes on the position 10 on the lost because of its high volume. Coming to New Zealand dollar's daily volume, it is around $68 billion.
This currency is not a part of the major family but it's still popular due to many reasons. This is because of the trade contacts of this country with other ones.
New Zealand is an active participant in many import and export activities. This business generates a good income for New Zealand and this is the reason it is popular among traders. Big countries like China, Australia support New Zealand in the trading business. If you want to start forex trading, you can also consider this currency on your list.
11. Turkish Lira or TRY
The official and popular currency of Turkey is on position 11 on this list. This currency's short form is TRY in the currency hub and it is not a part of the major family. There are many traders who trade this currency with USD and make profits.
There is no such high competition in this currency as compared to others. The trading volume of TRY is below the mark of $50 billion. This is many traders' preference because it comes with high-profit trading.
People often read that this currency rate is falling but still, it is quite popular in the market. Some people consider this as a part of exotic currency pairs due to its low competition. If you know how to trade well, this currency is profitable.
12. Singapore Dollar or SGD

If you are in this forex market for a while, you know the Singapore dollar is among the popular currencies.
The Monetary Authority of Singapore runs this currency in the country and it is quite known in the forex.
Traders put this in the minor group but some people confuse this by placing it into the exotic currency group. This currency issuance was in late in the year 1967 and from then, it's running as the official currency. The lump rate of SGD is around 0.612% but still, it's this currency is among traders' favourite one.
This is also not an exotic currency due to certain properties of SGD. If you are an experienced trader, you can handle and trader this currency with ease.
13. Brazilian Real
Traders trade this popular currency with different other major notes. Brazilian Central Bank runs this currency and it comes with less risk. On the other side, it gives moderate profits to traders.
There are many factors that affect Brazilian Real. The government's GDP numbers, etc have a major effect on this currency. This country is active in importing tools. So, because of this, the Brazilian Real has a better position than many others.
14. Israel New Shekel
Israel is amongst some powerful nations in the world. This country's currency is also active in the forex market. The volume of this currency is less than $40 billion a day but still, people trust this currency.
There are some factors like GDP, government reports, market volatility that affect this. The ILS is not a part of the major family group but still, investors have a special interest in this. Traders often trade Israel New Shekel with USD and other major country's notes.
During the recession of 2008, ILS was among the few currencies that were healthy. So, It's the reason why ILS is so popular among the traders.
15. Libyan Dinar or LYD
This currency comes into existence in the year 1951 and from then, it is among popular currency pairs. As Libya is a small country, it is quite better than many other nations in many terms. The GDP rate of Libya is good and as this country is in imports, the currency is stronger than many others.
Central Bank of Libya runs this currency in the nation and traders often use this bill with USD or EUR. This pair gives more profits as compared to many other pairs. Experienced traders prefer this because of the right volatile nature. As Libya is an OPEC member, it gives more powers to the nation.
16. Pound of Gibraltar
GIP comes on position 16 on this list because of its stability in the market. GIP is also among popular forex options that traders often choose. This country comes in the outer territory of Great Britain. Due to this reason, it holds a good position in the market.
GIP and GBP form a good pair in the market and it offers high volatility to traders. GIP/GBP is not a major currency pair but it is often profitable for traders.
There are many points that affect GIP including GDP, relation with Great Britain, and more. Government of Gibraltar runs this currency and from 1825, GIP is a major part of the circulation. Like the GBP, the pound of Gibraltar is available in the same denominations.
17. Kuwait Dinar
The Kuwaiti Dinar or KWD also high-value currencies in the world. For guys who don't know, one KWD is more than three US dollars. Due to this, this currency is a major trading element of forex.
KWD came into the market in 1961 and it was a replacement of the Gulf rupee. From that point, Kuwait Dinar's value is also more than GBP or Euro. In forex, this currency was pegged with GBP and that is the reason, why it is a mainstream currency.
Along with this, Kuwait's economy is stronger due to many factors and this is the reason behind KWD's value is high. KWD is higher in value but, the United States' dollar is more popular due to many reasons. These were some reasons why this currency is on position 17 on our list.
18. Bahraini Dinar of BHD
Like the Dinar, this currency is also more valuable than USD. One BHD is equalled to more than two US dollars that are the reason for its trading in forex. This currency is pegged with the USA's bill.
Traders trade with BHD and USD because of the volatility balance between these two bills. As USD brings in great volume, BHD offers more stability in the market. Central Bank of Bahrain circulates this currency in the nation.
According to 2016's reports, Bahrain reported inflation of around 5.9%. This country is under the fastest-growing economics of Arab and that is why people trade with it. The past of the nation and the future perspective of Bahrain makes it promising to many traders.
19. Omani Rial or OMR
This is among those currencies whose valuation is more than USD. One Omani Rial is more than two US dollars and the credit goes to the country's stable economic reports.
OMR is linked with UD Dollars and that is the reason why many people trade this pair in the market. Oman is a resourceful country. There are many commodities that Oman produces on its own. That's the reason, OMR is on number nineteenth on our list.
OMR/USD is among the strongest currency pairs that many experienced players use to earn. Other than USD, the OMR is also traded with CAD as it offers high volatility with great stability.
If you are wondering about trading OMR, go for a quote currency of CAD instead of USD. Central Bank of Oman runs and manages this currency in the market.
20. Jordanian Dinar of JOD
It's the last most traded currency on our list and it is practised with ILS or USD. As this currency is stronger than America's dollar, people earn money using USD's volume.
This is why JOD is among the popular trading currencies of forex. Many experienced traders use JOD to cut the competition and earn more from their trade.
CBJ runs and manages this currency in the nation. As Jordan is a budding economy of the middle east, it enjoys great trust from the traders. Jordan's government is trying to bring investors from foreign to make the economy stable. Jordan's monetary policies affect the position of JOD but overall in seasons, it performs well.
Jordan's government is also working fast towards reducing inflation. This is making JOD stronger and more stable for forex traders. If your interest is in JOD, you can exchange it with USD.
Final Words
If you are beginning with forex trading, start with the above currency pairs. You can pick any of them and start practising trading. Make sure you do proper research before starting. Research about the nation's GDP, reports, news before you place your capital.
Learn more about forex before you invest and make capital similar to a professional. You need to have a good broker who can manage important things for you. Choose any of the above currencies to start with forex. Gain more experience by using a dummy account when you start forex trading.

---
Disclaimer: The article above does not represent investment advice or an investment proposal and should not be acknowledged as so. The information beforehand does not constitute an encouragement to trade, and it does not warrant or foretell the future performance of the markets. The investor remains singly responsible for the risk of their conclusions. The analysis and remark displayed do not involve any consideration of your particular investment goals, economic situations, or requirements.