Best Indices to Invest in 2020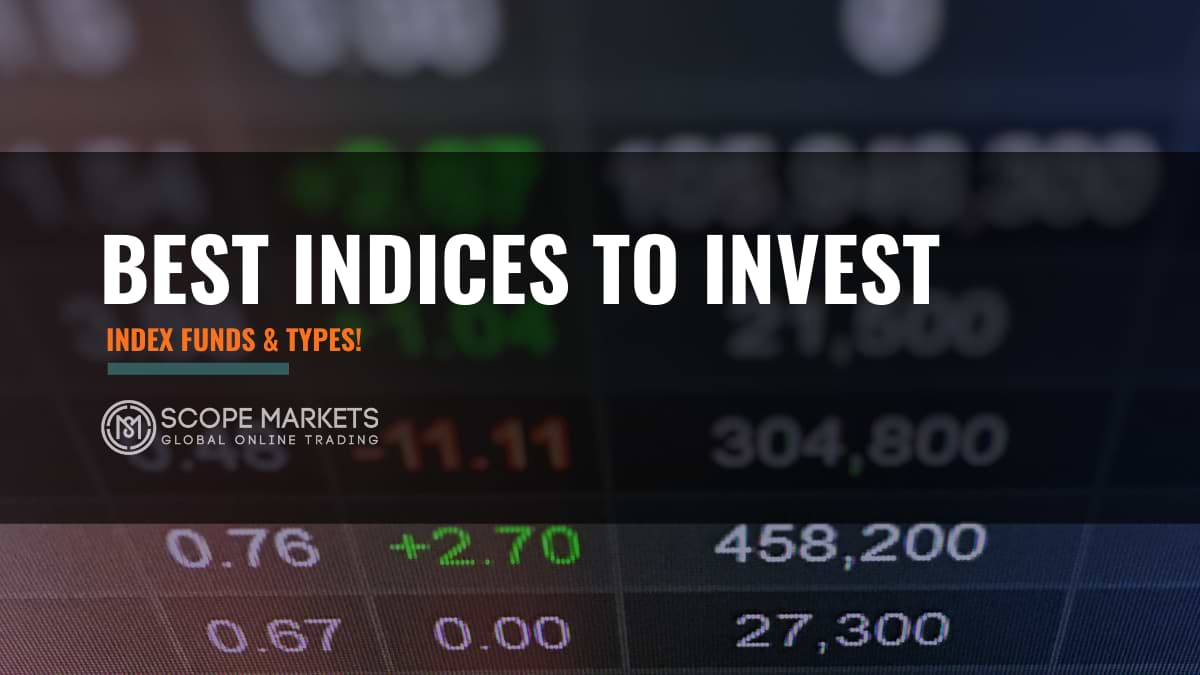 The best indices involve fewer costs and diversified trade portfolios. Also, these can pass time's test. But, not all index funds or indices get diversified, and a few are not perfect for long-term funding. There is a broad range of index funds to select from. Then, it is a must for investors to know which indices are best as per investors' needs.
In recent years, exchange-traded funds (ETF) and various index funds have beaten the market. And, various of them are not perfect for long-term shareholders. These funds generally concentrate on only a single narrow segment. And, these are social media, biotechnology, or MLPs. These actually focused funds can provide huge returns in the short-term. But, they may also observe huge drops.
Niche indices funds also have an increased expense ratio than many index funds. The best index funds and best indices to invest in 2020 are much diversified and affordable.
An index fund is a kind of mutual fund that reflects the choice of the index. Dissimilar to an active fund, there's no stock indices choice. When you are purchasing an index fund, only consider which indices the fund gets measured to. The portfolio of the fund will follow the stocks in the index in almost a similar balance.
You may buy and sell index funds from your current mutual funds' digital platform. Indexes provide you with a quick and effective method of taking part in the stock funds market. And, that is without taking an excessive specific stock risk.
Index Funds and Its Types
There are many index funds. Here are the types:
1. Wide Market Index Funds
A wide market would generally need to take a broad variety of the market. Big market index funds usually have the least expense ratios. The asset trades in wide index funds are usually small and tax-competent too. This is well-matched for investors who want to get a large range of bonds or shares.
2. Global or International Index Funds
The international Index funds will give exposure to international stocks and funds. A shareholder can choose funds that track indexes that are no more connected to any specific geographic area in the growing market.
3. Market Capitalization Index Funds
The shareholders who get involved in the long-term investment will gain from exposure. That is towards a broad variety of small and medium organizations. Index funds can assist you to get this target through market capitalization or market cap.
4. Bond Dependent Indices
These can assist you to manage a stable alliance of short, mid, and long-term bond maturities. And, it will come out as regular revenues.
5. Earnings Dependent Funds
Index funds also have the ability to work on the base of the profits earned by an organization. You may find 2 types of indices connected to firms that are growth and value indexes. The growth indices are made with businesses with the aim of creating profits quicker than others. The value indices include stocks that are trading at a fewer cost as evaluated to the company's income.
Find the best indices to invest in 2020
As an investor of mutual funds, you get a broad selection of index funds. Each big fund house involves an index fund on an individual basis. And, there are funds secured to diverse indices. Now, how do you select? The initial rule is to fix to diversified indexes. After that, as we don't know of future returns, we may use previous returns to choose the best indices to invest in.
S&P 500 Indices
One of the very popular index funds buys in the S&P 500. And, it is an index of stocks showing the 500 biggest firms in the US, as ranked by market cap.
Fidelity Spartan 500 Funds
This index fund has increased its conflict with Vanguard. And, now makes investors buy this fund at a low expense ratio of 0.015%. Usually, the index funds among the 2 big rivals are equal in sense of values and performance. At last, the conflict makes the top-quality funds for the shareholders. There's no least initial financing for FXAIX.
Schwab S&P 500 or SWPPX
Charles Schwab began a deliberate effort to offer over only commission brokerage service. They have gone into Vanguard and Fidelity indices fund markets. In current years, the commission broker has reduced its costs. Thus, to fight with Vanguard and Fidelity. The debt ratio is 0.02% for SWPPX, and there is no least investment.
Total Stock Market Indices to Invest In
If getting exposed to more than 500 U.S. large-cap shares isn't much diversified for you. Then, this market fund that funds in many stocks that hold big, mid, and small-cap is interesting. Here are the best of total stock market funds:
Schwab Total Stock Market or SWTSX
With an investment ratio of 0.03%, it is hard to hit SWTSX. It's unless you qualify to get lower expense ratios with one of Vanguard's funds. The smallest buying price for Schwab Total Stock Market is very low-cost at $1,000.
Forward Stock Indices Funds
If you are a long-term investor and don't recall noticing market volatility. Also, your account stability rises and falls in the short-term. Then, you might get competitive stock indices or index funds engaging.
Vanguard Growth or VIGAX Index
This fund finances only in large-cap shares that have a growth perspective. That makes it somewhat riskier, but also likely more fulfilling in the long-term than the S&P 500. The debt ratio for VIGAX is less 0.05%, and the least primary investment is $3,000.
Fidelity NASDAQ Composite or FNCMX Index
The NASDAQ Index includes large-cap shares. But, many are technology as well as health stocks. And, that tends to have higher long-term development potential than wider market indices. Thus, if you don't recall the summed risk for the more long-term return possibility, FNCMX is best. The debt ratio is 0.3%, and the smallest primary investment is $2,500.
Vanguard Mid Cap or VIMAX Index
The best method to give yourself an opportunity to hit the S&P 500 index is to get a fund that buys in mid-cap stocks. And, it has performed very well than large-cap stocks. Mid-caps are also less dangerous than small ones. Thus, making it a rarity that invests right in the sweet point of increased returns. And, with no utmost risk. The debt ratio for Vanguard Mid Cap is 0.05%, and the least primary investment is $3,000.
Bond Indices to Invest In
Bond funds are suitable for each investor to get a diversified portfolio. Indices funds are a perfect method of taking a big part of the bond market in only a low-cost expense. Thus, having the best investment strategy is essential for any investor.
Here are a few bond index funds to match this kind of need for diversification and integrity:
Vanguard Total Bond Market or VBTLX Index
This is the biggest securities or bond index fund in the world in the sense of AUM or assets under management. This size signifies that it's the favourite of DIY shareholders and many fee experts too. The expense rate is only 0.05%, and the least initial grant is $3,000.
Fidelity Total Bond or FTBFX Index
This is generally a diversified bond fund that is like the Vanguard Index Fund. But, it has more compliance in evaluating risk and bonus. In paraphrase, the Fidelity Total Bond can continue more high-return bonds. And, likely achieve higher long-term returns as evaluated to Vanguard. The rates are somewhat higher at 0.45%, but an index fund's continued investment can be worthy. The smallest initial buying is $2,500.
Balanced Index or Indices Funds to Invest In
If you are in search of a perfect method to have a different mix of stocks and bonds in the only single mutual fund. Then, the best method to do it is with impartial indices funds.
Vanguard Balanced or VBIAX Index
This fund does a fabulous job of keeping charges low and evaluating risk and bonus in the long-term. The asset-class and its allotment stay at around stocks 60% and bonds 40%. Thus, making it suitable for investors considering a balanced risk. Long-term yields have been engaging at almost 7%. It is covered by the 15-year yearly returns in 2016. The cost ratio is less at 0.07%, and the least first investment is $3,000.
Conclusion
So, index funds or indices are still the best options in 2020. But, it's essential to memorize why you will select index funds in the prime place. Index investment depends on the feeling that you can't choose the finest personal investment. The best index investing signifies you take the market standard. As well as get it in a profitable way.
Your individual investment range is also necessary to remember. If you only consider short-term gains in diverse funds, you will ever get a reason to regret selecting indices. And, that is the quality of the strategy.
Index funds help you save costs and the prospect of stock choice. A bit of preparation on your part can drop you with a pleasant and successful journey, and various investment options.

So, we hope that the above-described best indices to invest in 2020 will help you get huge returns.
References:
Niveshmarket best index funds in India 2020
5paisa – Best index funds to invest in 2020
The balance – Best index funds for long term investors
---
Disclaimer: The article above does not represent investment advice or an investment proposal and should not be acknowledged as so. The information beforehand does not constitute an encouragement to trade, and it does not warrant or foretell the future performance of the markets. The investor remains singly responsible for the risk of their conclusions. The analysis and remark displayed do not involve any consideration of your particular investment goals, economic situations, or requirements.