Earnings preview: Nvidia, Snowflake, Splunk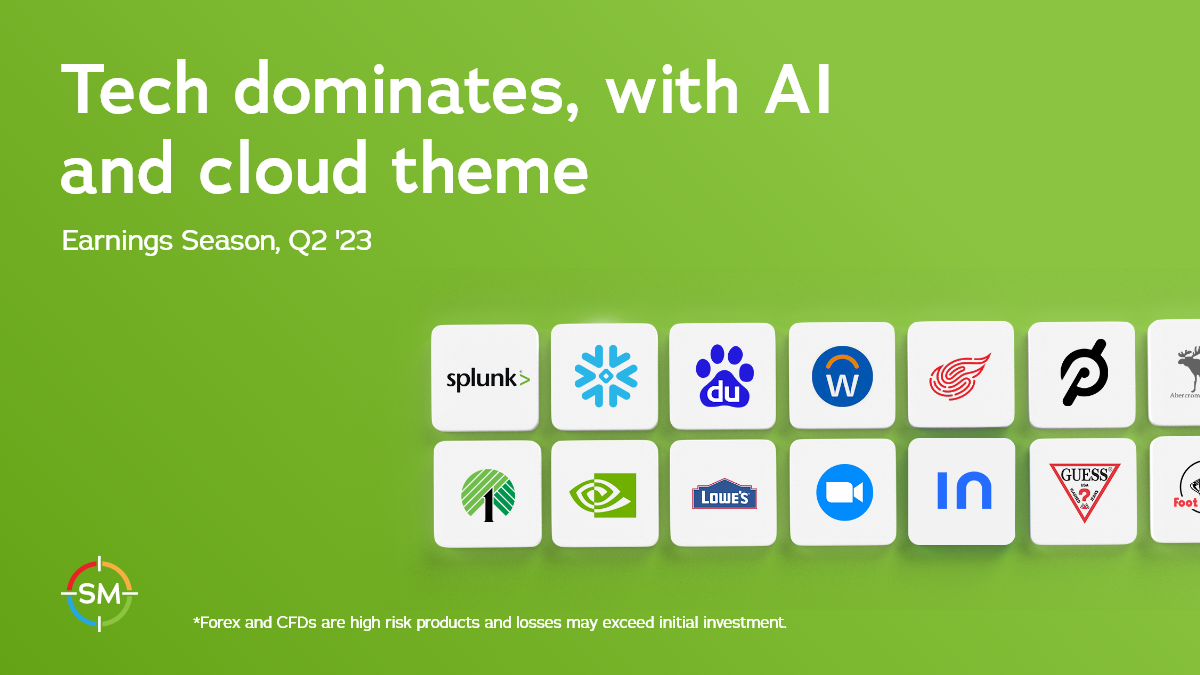 Nvidia
Wednesday 23 August
Nvidia is scheduled to release its second-quarter earnings after the close on Wednesday, with traders eagerly anticipating the latest update from this AI poster child. The success of Nvidia's first quarter earnings report set up a period of massive outperformance for the stock and the tech sector as a whole. The gains seen over recent months have shifted the valuation picture significantly, with some likely to consider the stock overvalued as the price-to-earnings ratio hits 228. Nonetheless, analysts continue to lift their price forecasts, signalling an optimism that future earnings will be on a new trajectory thanks to AI revenues.
Nvidia appears to have positioned itself as the primary Artificial Intelligence chipmaker, with the widespread adoption of the technology serving to drive demand for their products. Recent reports have found that much of this new demand has come from the Middle East, with Saudi Arabia and the UAE buying up thousands of H100 chips.
With markets having already priced in huge upside for revenues and earnings, the key question for traders is whether we will see the company manage to outperform lofty expectations. A look at the chart below highlights how earnings and revenues are expected to take off onto a new trajectory this quarter. Any underperformance or outperformance against market expectations would therefore impact expectations going forward.
Expected earnings per share (EPS): $2.08 per share. Comparatives: $1.09 (Q1 2023) and $0.51 (Q2 2022)
Expected revenues: $11.14bn. Comparatives: $7.19bn (Q1 2023) and $6.7bn (Q2 2022)

Snowflake
Wednesday 23 August
Snowflake has managed to enjoy healthy growth in a sector that has been at the forefront of tech expansion in recent years. Their cloud-focused data analytics service has been well positioned at a time when many of the top tech giants have been building out their cloud revenues. In particular, Snowflake has targeted Amazon's AWS platform. As such, the success of Amazon should similarly translate into upside for Snowflake. While markets are expecting to see revenues increase, we are looking at a potential seventh consecutive quarter of slowing growth. That is similar to the experiences within many of the main cloud service providers.
Despite slowing growth, there are reasons to be optimistic, with the big data firm teaming up with both Microsoft and Nvidia in a bid to introduce adaptive AI to their products. The decision to engage with the two hottest names in AI certainly turned some heads, although we are yet to see how this translates into greater revenue and profits. We have seen some analysts rerate the stock as a result of this AI push, but traders will be keeping a close eye out for greater detail on exactly how these newly forged relationships will impact the business. Forecasts of an upward trajectory for revenues clearly highlight growing confidence that the company is moving in the right direction. However, markets will be cautiously awaiting the moment that the AI element starts to impact the top line as a signal of impending outperformance.
Expected earnings per share (EPS): $0.10 per share. Comparatives: $0.15 (Q1 2023) and $0.01 (Q2 2022)
Expected revenues: $662.22m. Comparatives: $623.60m (Q1 2023) and $497.25m (Q2 2022)

Splunk
Wednesday 23 August
The cloud computing theme comes back into focus for Splunk earnings on Wednesday. Concerns around a potential slowdown cloud spending are prominent here, with the wider economic uncertainty bringing question marks over demand. The company also faces questions over whether they could see a similar underperformance when looking at competitor Datadog's recent weaker-than-expected revenues and outlook. Datadog's experience of slowing usage growth for existing customers does bring concerns over a similar experience at Splunk. However, markets are looking for both earnings and revenue to improve on both a quarterly and annual basis.
Expected earnings per share (EPS): $0.46 per share. Comparatives: $0.18 (Q1 2023) and $0.09 (Q2 2022)
Expected revenues: $889.29m. Comparatives: $751.51m (Q1 2023) and $798.75m (Q2 2022)

---
Disclaimer: The article above does not represent investment advice or an investment proposal and should not be acknowledged as so. The information beforehand does not constitute an encouragement to trade, and it does not warrant or foretell the future performance of the markets. The investor remains singly responsible for the risk of their conclusions. The analysis and remark displayed do not involve any consideration of your particular investment goals, economic situations, or requirements.