Earnings Preview: Salesforce, Broadcom, and Nio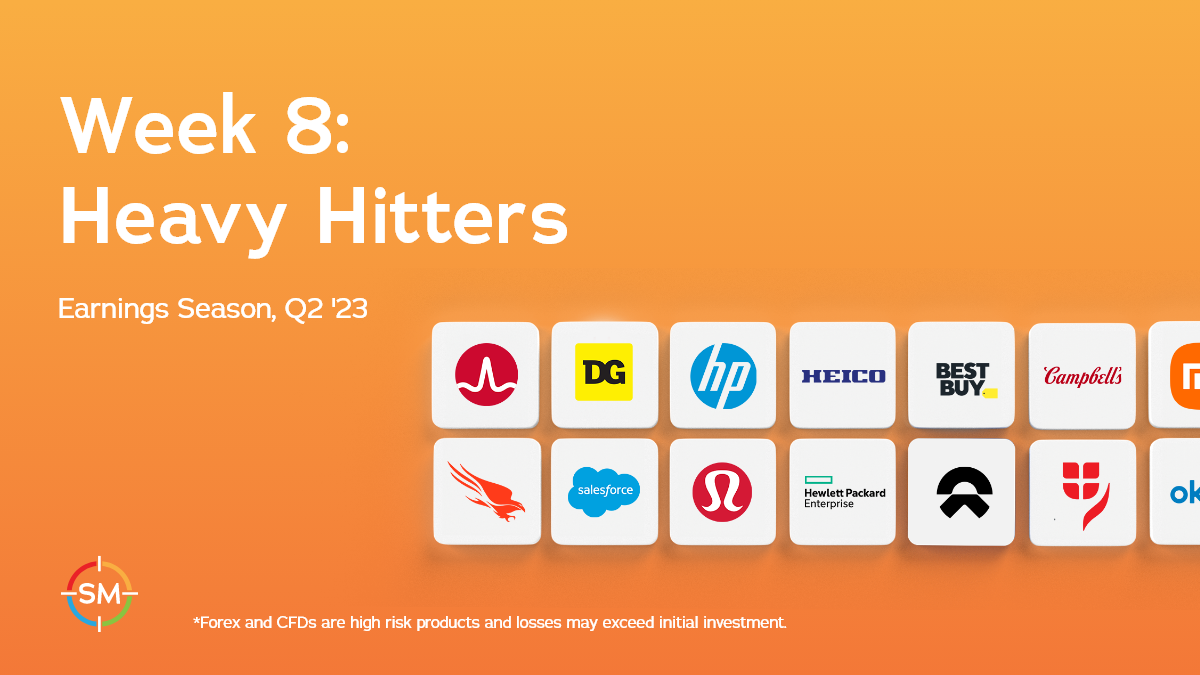 Salesforce
Wednesday 30 August
Salesforce provides one of the final major tech earnings reports for the quarter, with shareholders hoping they will see the AI boom continue. Coming off the back of an impressive surge in revenues from Nvidia, confidence for AI remains a driver of positive sentiment amongst players in the field. Salesforce have invested heavily into generative AI and traders will keep a close eye on any updates over potential revenue streams that could come as a result.
Like many of their peers, Salesforce have embarked upon a round of heavy cost cutting. That benefit to the bottom line will be key, with activist investors driving a greater focus on profits over revenues. CEO Mark Benioff has long employed a policy of growth through acquisition. However, the decision to disband their panel aimed at exploring further M&A activity signals a potential change of tack. Instead, Benioff will need to prove that he can grow organically, with AI providing one opportunity for Salesforce to do exactly that.
Last quarter saw marginal beats for earnings (EPS) and revenues, but markets predict fresh records highs for both in Q2.
Expected earnings per share (EPS): $2.08 per share. Comparatives: $1.09 (Q1 2023) and $0.51 (Q2 2022)
Expected revenues: $11.14bn. Comparatives: $7.19bn (Q1 2023) and $6.7bn (Q2 2022)

Broadcom
Thursday 31 August
Broadcom earnings maintain the Artificial Intelligence and tech focus, with the semiconductor stock enjoying an impressive 65% rise over the course of the past year.
The rapid adoption of generative AI technology is expected to drive demand for highly specialised custom chips (ASIC). Broadcom is the main player in this custom chip field, holding roughly 35% of the market share. With that in mind, the growing demand for ASIC chips should bring particular benefits to Broadcom.
This week saw Broadcom's takeover of VMware approved in the UK, bringing additional exposure to the AI field. Traders should keep a close eye out for any commentary around the benefits of such a purchase should it go through in time.
Undoubtedly investors are keen to diversify across the spectrum of AI in a bid to capture this exciting new trend without putting all their eggs in one basket. With that in mind, Broadcom provides a key stock to watch that could see a renewed earnings trajectory take hold.
Expected earnings per share (EPS): $10.43 per share. Comparatives: $10.32 (Q2 2023) and $9.73 (Q3 2022)
Expected revenues: $8.85bn. Comparatives: $8.73bn (Q2 2023) and $8.46bn (Q3 2022)

Nio
Tuesday 29 August
Chinese electric vehicle firm Nio report their second-quarter earnings on Tuesday, with traders keeping a close eye out for any detail over margins. That comes in the face of falling sales volumes, with Q2 deliveries of 23,520 vehicles at the bottom end of the 23-25k guidance range. This represents a 6% year-on-year decline, and a sharp 24% lower on the quarter. Gross margins are expected to gradually improve, which helps paint a picture of a move back towards profitability. However, that remains far off for now, with the company expected to post yet another significant loss. The question is whether we see those losses narrow once again or widen.
Guidance will be key, with deliveries expected to pick up significantly following a record July (over 20,000). Previous comments from Nio leadership team had mentioned an expectation that vehicle margins will move back to double digits in Q3, and top 15% Q4. With that in mind, the improvement from the Q1 figure of 5.1% will be key. Looking at the predicted trajectory of earnings, there is optimism that the company will gradually make its way to profitability. As such, the outlook will be crucial to informing traders over whether the company is ahead or behind schedule.
Expected earnings per share (EPS): -$0.41 per share. Comparatives: -$0.37 (Q1 2023) and -$0.20 (Q2 2022)
Expected revenues: $1.26bn. Comparatives: $1.55bn (Q1 2023) and $1.54bn (Q2 2022)

---
Disclaimer: The article above does not represent investment advice or an investment proposal and should not be acknowledged as so. The information beforehand does not constitute an encouragement to trade, and it does not warrant or foretell the future performance of the markets. The investor remains singly responsible for the risk of their conclusions. The analysis and remark displayed do not involve any consideration of your particular investment goals, economic situations, or requirements.