Earnings preview: Walmart, Target, Estee Lauder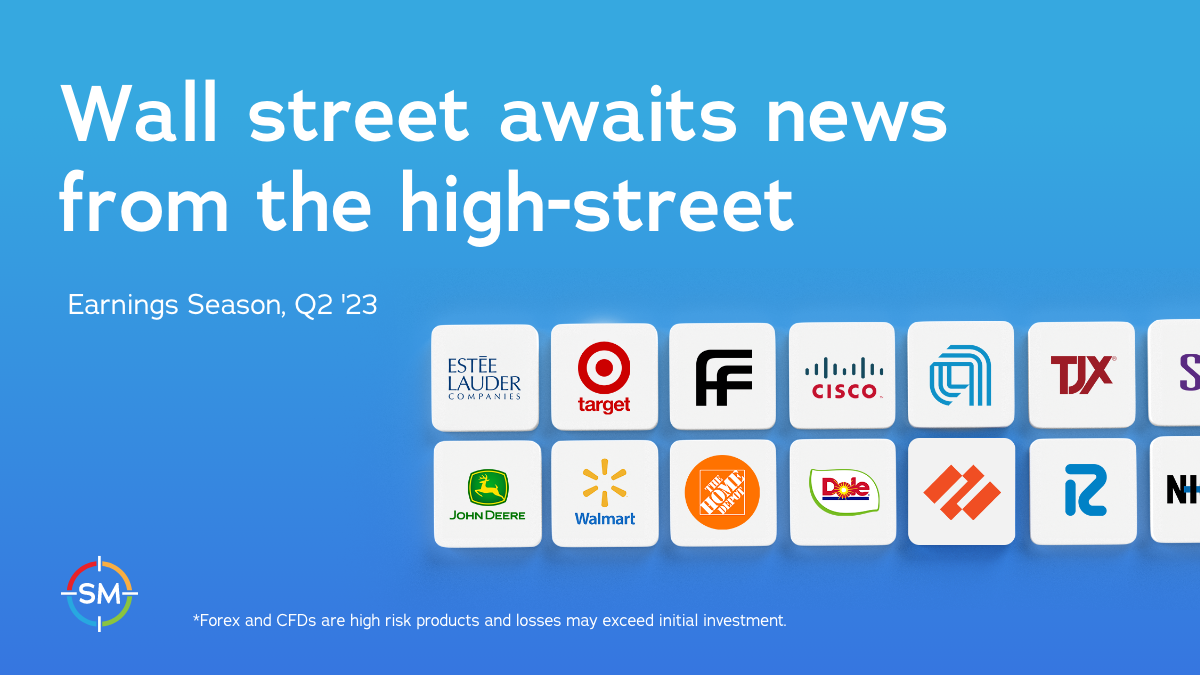 Walmart
Walmart report their latest earnings on Thursday 17 August, with markets looking towards the retailing giant for a fresh update on how consumer habits have shaped up over the second-quarter. Coming off the back of an impressive outperformance from Amazon, Walmart shareholders will hope that the company will follow-suit. As a guide, Amazon saw a 4.2% jump in sales, with a 6.4% increase physical store sales, including Amazon Fresh, Whole Foods and Go convenience stores.
Interestingly, the Amazon transition towards physical sales has come as Walmart seek to maximise their transition into the digital marketplace. The recent investment in their e-commerce platform does help provide a potential source of growing revenues. Meanwhile, there has been speculation that the coming quarters will also see improvements to the bottom-line as a result of an improved business mix and a strategy of aggressive investments. For this quarter, traders should keep a close eye out for potential upside in their US grocery, wellness, Sam's Club, and International operations.
Ultimately, there is a hope that the robust consumption environment in the US should help support earnings for the quarter, with competitive price points meaning that inflationary pressures are more easily passed on without denting demand.
Expected earnings per share (EPS): $1.68 per share. Comparatives: $1.47 (Q1 2023) and $1.77 (Q2 2022)
Expected revenues: $159.57bn. Comparatives: $152.30bn (Q1 2023) and $152.86bn (Q2 2022)

Target
Target earnings are due to be released on Wednesday 16 August, with the retailer suffering in a period that has seen the share price come under pressure despite strong US consumption data. In part that comes down to question marks over demand for consumer discretionary items in particular. The concerns around demand in that particular sector could drive the retailer to provide deeper discounts in a bid to shift merchandise. That has the potential to persist for some time to come, with Target earnings expected to suffer as a result. Unlike Walmart, Target price points have made it more difficult to pass on increased costs as inflation takes hold. Thus, with demand concerns and rising underlying costs, there is a question about a potential squeeze on margins in the second quarter.
It is notable that these concerns are relatively short-term in nature, with any squeeze on discretionary sales likely to give way to a more buoyant environment down the line. Nonetheless, the degree to which those pressures are impacting demand, pricing, and margins will be key for investors and traders alike.
Expected earnings per share (EPS): $1.51 per share. Comparatives: $2.05 (Q1 2023) and $0.39 (Q2 2022)
Expected revenues: $25.45bn. Comparatives: $25.32bn (Q1 2023) and $26.04bn (Q2 2022)

Estee Lauder
Estee Lauder are due to announce their fourth quarter earnings on Friday 18 August, with shareholders hoping to see this well known brand turn the tide on a particularly tough period. With shares falling into a two-year low, the market perception of Estee Lauder continues to deteriorate. A host of recent analyst downgrades have done little to help the situation, although some of those downgrades are a case of lowering targets within an overall buy recommendation. With that in mind, traders will seek to gauge whether the current concerns justify the continued price decline.
Asia remains the key concern for Estee Lauder, with elevated inventories coinciding with a Chinese recovery that has floundered. The lackluster travel rebound in China has hurt retailers reliant on airport sales, while the latest move into disinflation could cause consumers to delay purchases in the hope of lower future prices. All this feeds into expectations of a negative earnings per share figure, which would be the first quarterly loss in three years. Nonetheless, with the long-term outlook likely to see Chinese consumption strengthen, a better-than-expected earnings report could help bring buyers looking for a long-term bargain.
Expected earnings per share (EPS): -$0.04 per share. Comparatives: $0.47 (Q3 2023) and $0.42 (Q4 2022)
Expected revenues: $3.51bn. Comparatives: $3.75bn (Q3 2023) and $3.56bn (Q4 2022)

---
Disclaimer: The article above does not represent investment advice or an investment proposal and should not be acknowledged as so. The information beforehand does not constitute an encouragement to trade, and it does not warrant or foretell the future performance of the markets. The investor remains singly responsible for the risk of their conclusions. The analysis and remark displayed do not involve any consideration of your particular investment goals, economic situations, or requirements.