Earnings week preview: Apple, Amazon, and Shopify bring consumer focus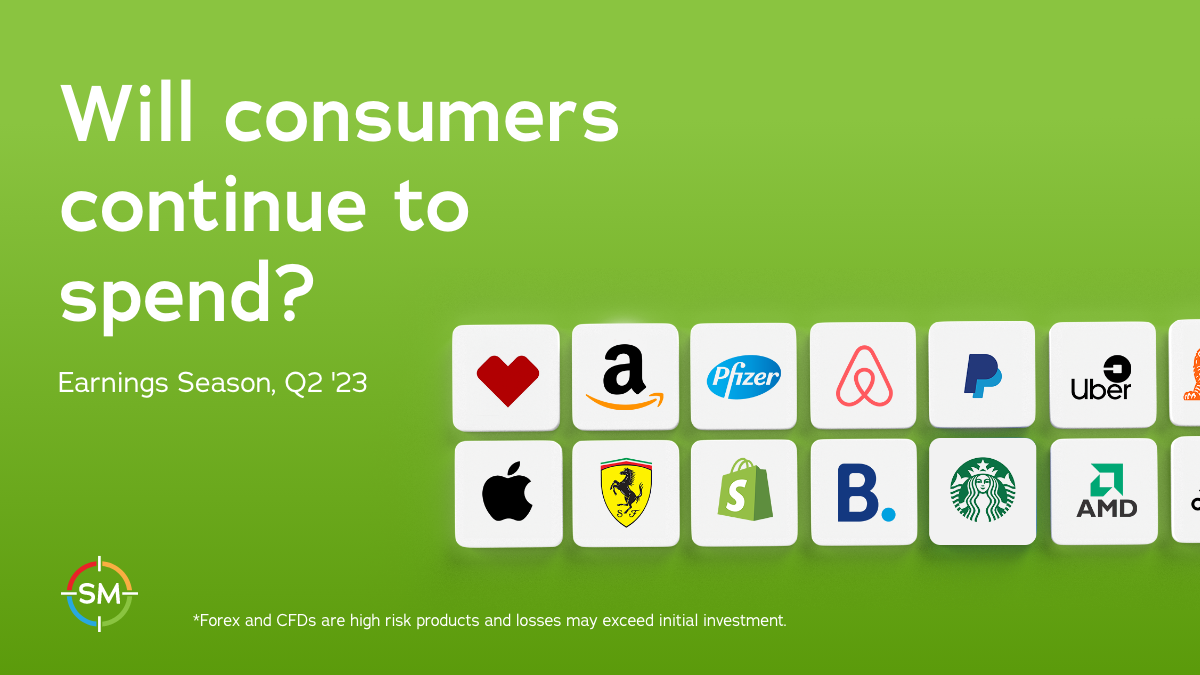 Amazon's web service growth comes into question
Amazon.com is scheduled to release its Q2 results on Thursday (3 August), with markets hoping to see revenues and earnings tick higher after a better-than-expected Q1. Coming off the back of a year that saw earnings essentially disappear, things are looking up for the retail and tech giant.
A look at the breakdown by revenue source over recent years does show that income from the larger 'online stores' and 'third-party seller services' segments have failed to grow at any significant pace. Instead, it has been the Amazon web services income (AWS) that has been steadily building as the new core driver of growth. With that in mind, keep a close eye out for Q2 AWS performance and Q3 outlook, with the cloud business lagging in the first quarter. Markets are expecting a figure roughly around the $22-23 billion mark.
With AWS growth concerns growing, Amazon will hope to build positive sentiment around potential advertising and artificial intelligence revenues. Advertising amounted to over 7% of total income in 2022, and thus the $9.5 billion revenues announced for the first quarter does raise hopes that 2023 will see advertising top $40 billion (vs $37.74 billion in 2022). With consumption remaining strong throughout a period of elevated inflation, traders will be hoping that growth areas such as AWS and advertising are able to build on stable growth in the more traditional sides of the Amazon business in Q2.
Expected earnings per share (EPS): $0.35 per share. Comparatives: $0.31 (Q1 2023) and $0.20 (Q2 2022)
Expected revenues: $131.45bn. Comparatives: $127.36bn (Q1 2023) and $121.23bn (Q2 2022)

Apple sales stutter, with revenues expected to wane
Apple plans to announce its third-quarter earnings after US markets close on Thursday (3 August). Unfortunately, the tech giant faces headwinds as highlighted by the fact that markets are forecasting a second consecutive decline in revenues and earnings per share. For a company that earns 54% of its revenues from iPhone sales, there are concerns over how the Chinese growth story is going to dampen demand. However, it is worthwhile noting that these sales are largely cyclical, meaning that declining Q2 and Q3 revenues are typical given the oversized Q1 revenues. With that in mind, traders should keep a close eye out for year-on-year comparatives. Unfortunately, markets expect to see EPS come in largely flat, while revenues are forecast to decline from the Q3 2022 figure of $82.96 billion.
There will be a big focus on ensuring that the business can continue to grow going forward, with the current price-to-earnings ratio of 32.75 likely to come into question should that growth outlook weaken. Traders will want to see clarity over plans to grow alternate revenues, with software sales at the forefront of that shift. Beyond the iPhone, services form the second highest source of revenues for the firm. Much like their tech peers, Apple will want to show growth in their cloud product, which provides a high-growth, low-cost source of revenue. Also keep a close eye on expectations of future demand, with the impact of elevated interest rates in the West coupled with concerns around Chinese economic growth.
Expected earnings per share (EPS): $1.19 per share. Comparatives: $1.52 (Q2 2023) and $1.20 (Q3 2022)
Expected revenues: $81.73bn. Comparatives: $94.84bn (Q2 2023) and $82.76bn (Q3 2022)

Will Shopify streamlining set the company on a new trajectory?
Shopify reports its second-quarter earnings on Wednesday (2 August). The company has enjoyed a bumper start to the year, with the stock riding a wave of tech optimism to gain 82%. However, much of that upside came as a result of their May update, which saw the company announce both a 20% workforce reduction and the disposal of the majority of their logistics business, Flexport. This move to lower costs and streamline the business has implications for the company's earnings, with the coming quarters expected to see earnings per share ramp up following razor-thin positive EPS last quarter.
The decision to focus on their core business allows Shopify to double down on its efforts to drive profits going forward. Improved margins that come as a result are expected to be laid out within this earnings report, with investors keen to understand how that streamlining process has managed to benefit the bottom line. With Federal Reserve's move to increase interest rates having done little to dampen consumer spending thus far, there appears to be plenty of optimism heading into these Q23 earnings.
Expected earnings per share (EPS): $0.07 per share. Comparatives: $0.01 (Q1 2023) and -$0.03 (Q2 2022)
Expected revenues: $1.63bn. Comparatives: $1.51bn (Q1 2023) and $1.30bn (Q2 2022)

---
Disclaimer: The article above does not represent investment advice or an investment proposal and should not be acknowledged as so. The information beforehand does not constitute an encouragement to trade, and it does not warrant or foretell the future performance of the markets. The investor remains singly responsible for the risk of their conclusions. The analysis and remark displayed do not involve any consideration of your particular investment goals, economic situations, or requirements.