Alphabet Google Stock Price Update as the Bullish Move Continues / July 2021
Alphabet Inc. (GOOGL) has been fast performing from the FAANG stocks in 2021, with the stock price continuing its bullish rally plotting a new record high. Google stock is up 42% vs. Facebook, Inc.'s (FB) 23.35% return, Amazon.com, Inc.'s (AMZN) 8.99%, and -1.56% for Netflix, Inc. (NFLX).
Alphabet, which is near all-time highs, will announce its second-quarter earnings report scheduled for July 27. Everyone is thinking of a logical question: Will the profits exceed expectations?
What can we expect from the Google stock?
Investors expect the company to report second-quarter earnings per share of $ 19.63, with revenue expected to increase 46% to $ 56 billion.
Alphabet (NASDAQ: GOOG) last released quarterly earnings data on Monday, April 26. The information services provider reported earnings per share (EPS) of US $ 26.29 for the quarter, which was US $ 10.55 higher than the analyst consensus estimates of US $ 15.74. The company's revenue for the quarter was $ 55.3 billion, while the broader market expected $ 51.4 billion. Alphabet's net profit margin is 26.11%, and its return on equity is 23.54%. Compared to the same period last year, the company's revenue increased 34.4%. In the same quarter last year, the company reported earnings per share of US $ 9.87. On average, analysts expect Alphabet's earnings per share for this fiscal year to be $ 90 and for the next fiscal year $ 98.
Advertising revenue continues to be a key factor for companies such as Amazon, Facebook, and Apple, with the companies managing to expand their cloud-computing program. For Alphabet, the importance of regulatory review continues to increase and will continue to be a major issue in the coming quarters. However, although fines may continue to come, they are still a drop in the ocean for Alphabet's revenue. If there is no actual regulatory action, they will only represent a long-term fleeting problem and an excuse for regular liquidation. But it is not a fundamental change in direction.
Technical outlook
The Alphabet Inc. Stock has been enjoying a terrific rally since September 2020, with the share price moving on an upside channel, plotting higher highs and higher lows. Despite having had sell-off on its way to record high, the market has given the buyers more dip positions to buy more. The price is currently trading towards the upper resistance trend of September 2020. Stronger earnings could move the price towards 2800.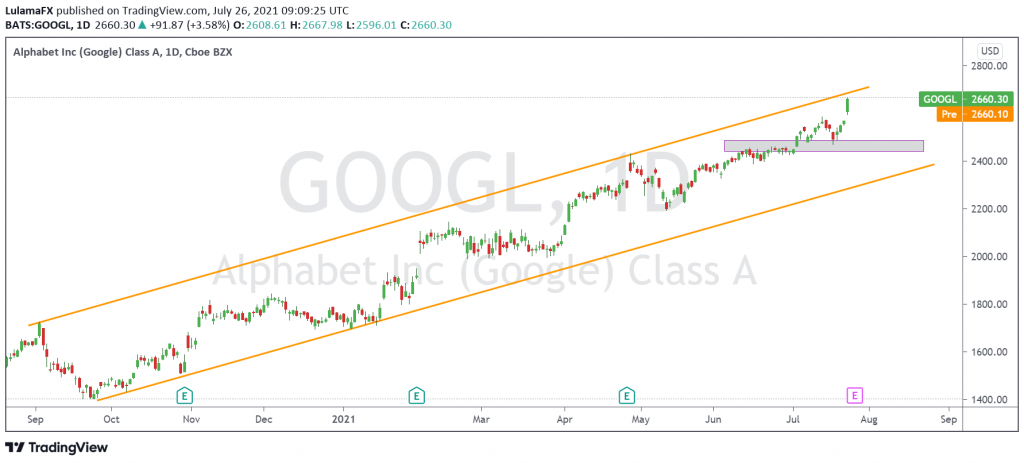 ---
Disclaimer: The article above does not represent investment advice or an investment proposal and should not be acknowledged as so. The information beforehand does not constitute an encouragement to trade, and it does not warrant or foretell the future performance of the markets. The investor remains singly responsible for the risk of their conclusions. The analysis and remark displayed do not involve any consideration of your particular investment goals, economic situations, or requirements.