Nio – Is This the Chinese Tesla?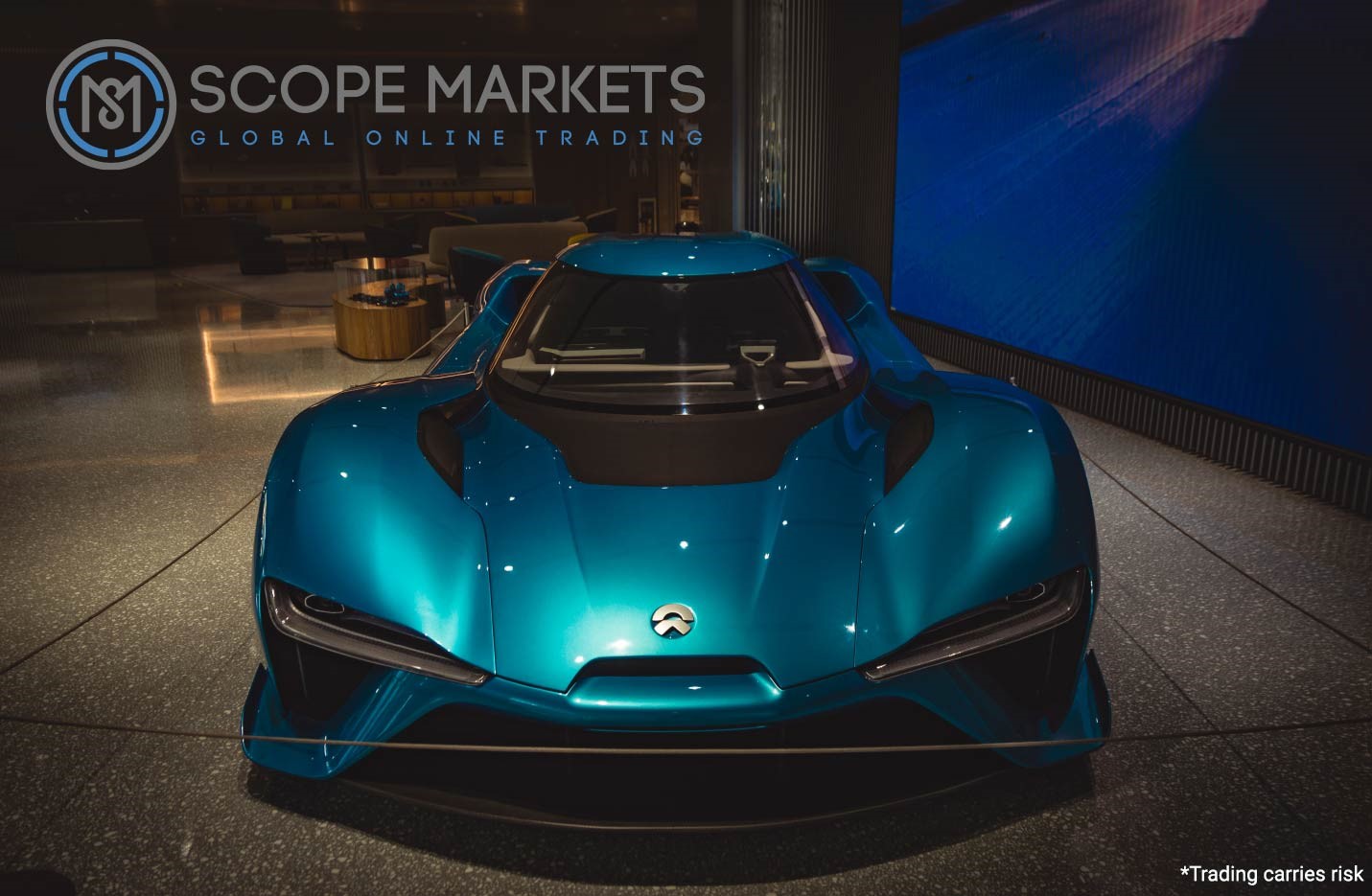 China's native Tesla competitors are carrying out sales in the world's biggest vehicle market.
Electrical car startup companies such as Nio, Xpeng, and Li Auto each stated in the previous few days that deliveries increased in 2020 to finish the year with the latest monthly growths.
The power of demand shows the whole improvement in China's auto market and its economy to turn out a leader in EV technology. The government of China has also helped the niche with grants, looser constraints on permit plates, and the construction of a credit base.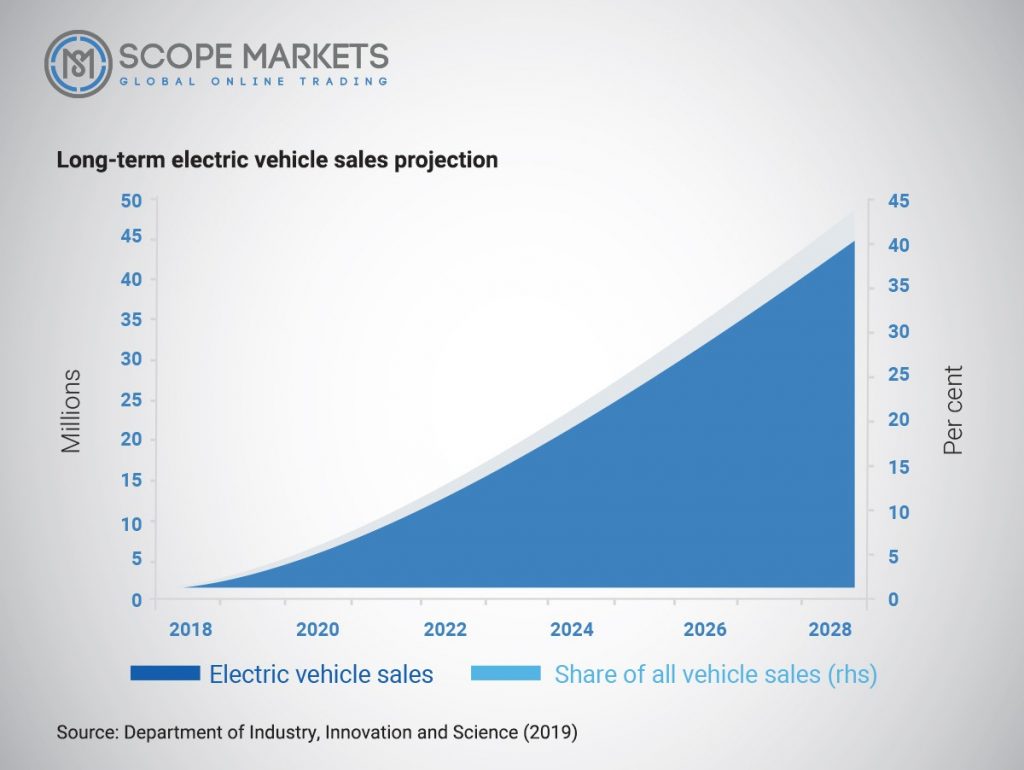 Nio, listed as NIO on NYSE, is improving its list of rich electric vehicles as sales improve for China's expanding Tesla (TSLA). However, does the Nio stock have a buying sign now, or is Nio – the Chinese Tesla?
In 2020, the electric vehicle maker, Nio, increased electric vehicle (EV) sales and returned from the verge of insolvency. Nio started the new year on a powerful note, revealing its primary electric car sedan and making a big January sales profit. So, Nio – is this being the Chinese Tesla?
Technical analysis for Nio stocks
The Nio stock price has been under pressure since hitting a record high of $67 in January 2021 even after the price tried to gain again in February but failed to sustain its move to the upside. The company has seen its stock price falling to an October 2020 low of $30.77, the stock has dropped more than 35% since touching the record level.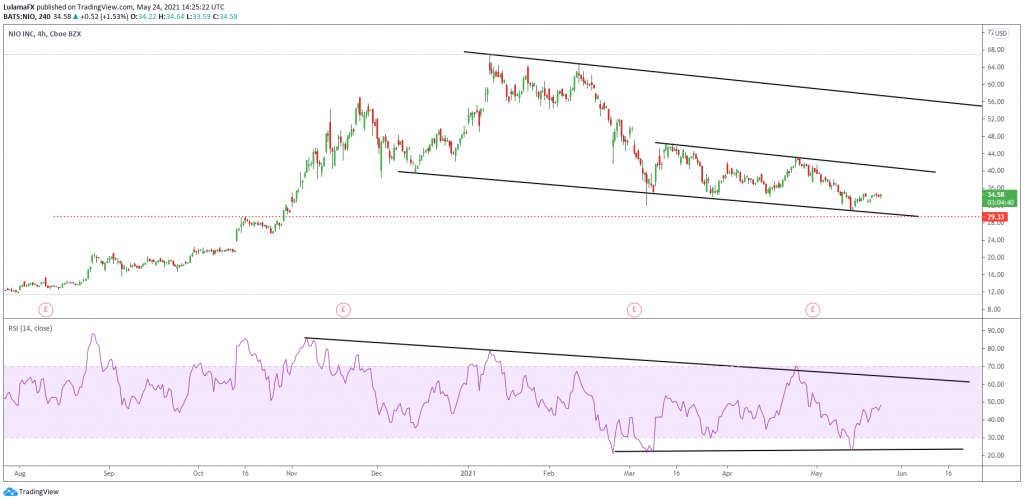 The RSL (relative strength line) for the Chinese electric vehicle stock shows that the stock has been oversold in May and could be looking to bounce back. The trendline marked in the relative strength line is used as a support trendline for the stock to track the price movement.
Nio shares moved public on 6 in September 2018, then reduced to 1.19 in 2019 due to sales and money distress. The firm phased a powerful bounce back in 2020 together with China EV selling.
Fundamental analysis and earnings of Nio
Nio lingers on fundamental earnings and different metrics. The company is a new, still growing organization and considering adopting a profit. Nio shares get an EPS rank of fifty-four out of ninety-nine. The Earning per Share ranking matches a company's income growth vs different companies.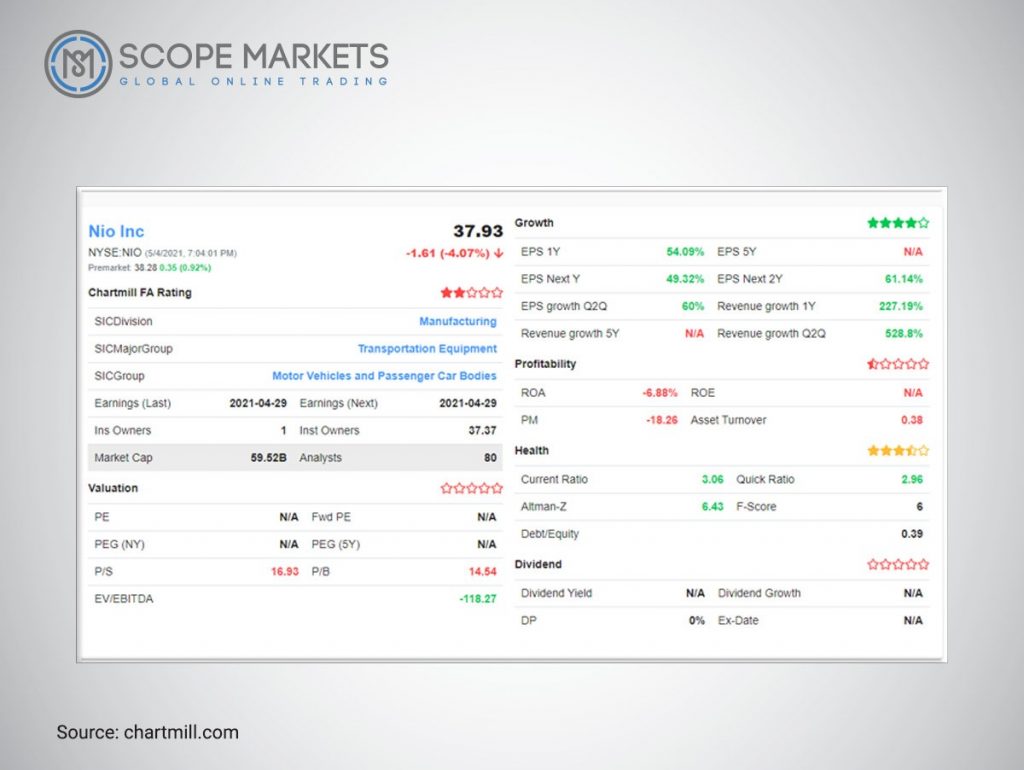 Nio follows both Tesla and Li Auto (LI) in the sense of its Earnings per Share Rank. Is Nio changing into the Chinese Tesla?
On the 17th of November, Nio hit the ratings for the 3rd quarter and fell by 12 cents per share since earnings doubled to $666.6mn. Quarter by quarter, Nio has recognized vehicle marginal increase and money over two-fold. Whereas income remains obscure, losses are reducing.
Stock analysts foresee Nio will cut losses to forty-one cents per stock in 2021 from sixty-two cents in 2020 since earnings grow 88%. Nio will likely report for 2020's quarter 4 in late Feb.
Nio sales fell in the 1st part of 2020 due to the COVID-19 outbreak in China. But sales reflected over two-folding in every succeeding quarter previous year. The impulse extended in 2021. Sellouts of Nio's preferred electrical SUV cars increase 4 times in January from a year earlier.
Related to Nio, peer China EV startup companies Xpeng and Li Auto have viewed large sales gains in the territorial market. Although sales of EVs stayed robust for Nio and its associates in Jan 2021, competition is getting fierce. As an outcome, Nio shares and China electric vehicle shares have come into obligation, as per analysts' study.
In January, Tesla (TSLA) reduced the price of its China-made Model Y, which is a competitor to Nio's new EC6 electrified crossover. Ford Motors also declared that it would shape the Mustang Mach-E crossover in China through Geely, a Chinese automaker associating with Baidu search engine on intelligent EVs. Various regional giants, involving BYD (BYDFF), are introducing premium or electric vehicle brands.
Nio promotes its growth outlooks and has confirmed that production barriers are shifting, although its electric cars' growth is positive.
Experts are bullish about Chinese electric vehicle and global electric vehicle sales, appending extra lift to Nio shares. China wishes EVs to be twenty per cent of all car sales via 2025, going up by 5%. It recognizes novel EVs as the solution to air pollution from cars that run on fossil fuels.
In the year 2020, sales of the NEVs grew by 11 per cent to 1.37 million units. NEV sellouts are now supposed to hit 1.8mn units in 2021. NEVs append battery-electric vehicles, plug-in sequences, and fuel-cell or hydrogen-electric cars.
Wall Street Journal hopes Nio's most advanced crossover for electric EC6. As well as for the forthcoming ET7 electrical sedan car to yield the growth. Experts also emphasize Nio's battery changes with a single battery support service.
The EC6 withdrew sale in September, and it has now become Nio's best seller. The biggest competition is from the Shanghai-made Model Y, which Tesla began to sell in China in the previous month. The Model Y has a price less than the EC6. Both Tesla's Model Y and Nio's EC6 face the ID.4, a low-cost electric model that Volkswagen (VWAGY) will be sold in China.
Nio commenced BaaS or Battery as a Service in 2020. The car and the battery are generally sold apart. Users may buy Nio cars with no batteries for a reduced cost and take batteries on lease for a monthly charge. They can also exchange car batteries based on their requirements.
Nio's newest battery of 150kWh launched in January and the ET7 has a long variety of up to six hundred miles on a sole charge.
Nio and Tesla – a significant comparison between these two

In June 2018, Nio introduced the car model ES8, one of the finest electric SUVs and its primary strength car. Nio started the smaller ES6 electric SUV car in June 2019 and the EC6 model in September 2020. Pre-orders for the latest ET7 began in January, with deliveries fixed to start early in 2022.
Nio is also planning to expand its business in different international markets, starting with Europe in the 2nd half of 2021. Tesla shares could profit from its low-cost China-made Model 3 cars to markets in Europe that started in October.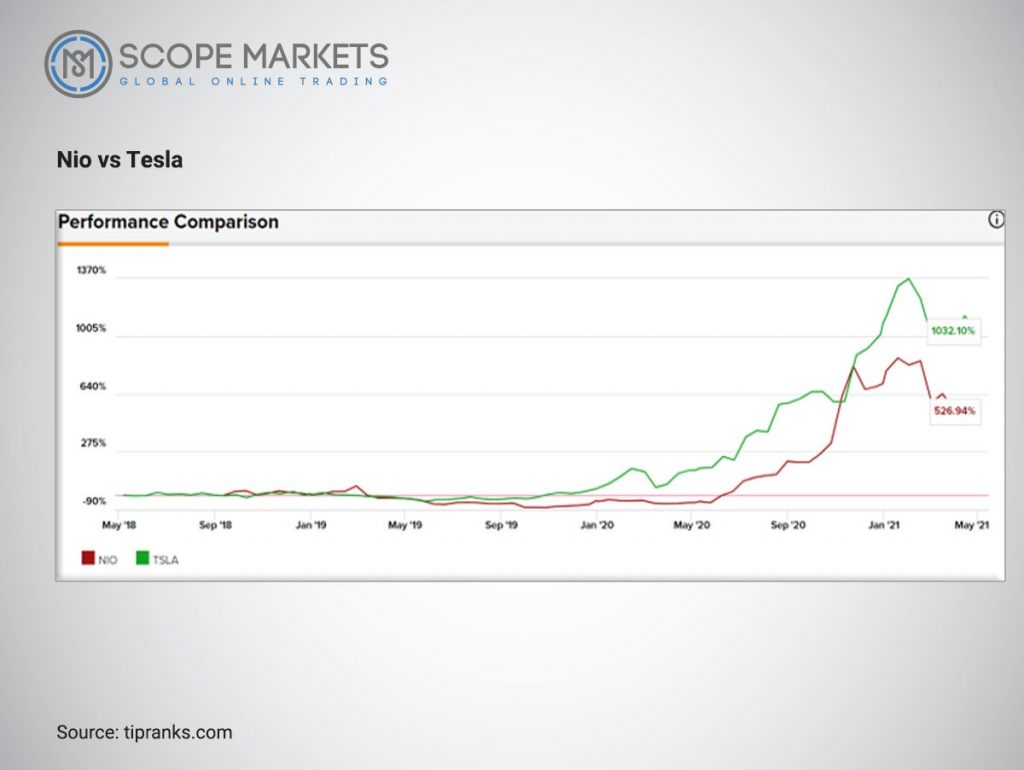 Unlike Tesla, Nio does not produce its cars. The company links with the Jianghuai Automobile Group, in China, on creating the ES6 model and ES8 model service cars.
NIO has encompassed battery-changing, a great technology that Tesla tried and stopped in 2013-2014. The company chooses to own a car with no battery and offer a monthly charge as a battery support service.
In the 1st half of 2020, Tesla had a pleasant sales drive over the latest force auto creators. As per the research, the top-selling electric car in China was the monstrous BYD, which sold approximately 60,253 electric vehicles. Tesla came second, with approximately 49,714 units and NIO came in the 9th position with sales of 14,169 units.
Does the Nio stock have a buying sign now?

From a basic perspective, Nio's economic situation is getting better after liability and liquidity concerns pushed shares. Although Nio is experiencing losses, it is providing a big top-line extension.
Large Wall Street listed organizations also comprehend the EV startup's recommended battery business plan positively. Similar to Tesla and BYD, Nio may change as a battery work like EV stocks. But the EV wars are now blowing up as big conventional automobile players, and tech firms enter the field.
From a technical point of view, Nio stocks are now in the buying position after splitting out first on the 8th of January. Whereas Nio's growth from the decampment has been getting obscured, it supports a big rally. Further, the support at the relative strength index could provide NIO with the needed long-term upside opportunity.
Conclusion – Nio – is this the Chinese Tesla
Because the electric vehicle war is heating, Li Auto, Nio, and Xpeng have accumulated billions of dollars in assets. They are increasing production volume to defend Tesla, which is coming out as the leader of the electric vehicle industry in China. Tesla is also looking forward to growing its business operations in Europe. So, could we say that Nio is the Chinese Tesla?
Wall Street is giving more bullish signs on Nio. Also, Nio's existing entrants have 2 past electric SUV cars and 1 most advanced electric crossover. The most advanced electric sedan car can perform very independent driving, comes on the road next year.
References: https://www.investors.com/news/nio-stock-buy-now/
https://insideevs.com/news/466710/tesla-vs-nio-electric-car-battle-china/
---
Disclaimer: This material is a marketing communication and shall not in any case be construed as an investment advice, investment recommendation or presentation of an investment strategy. The marketing communication is prepared without taking into consideration the individual investors personal circumstances, investment experience or current financial situation. Any information contained therein in regardsto past performance or future forecasts does not constitute a reliable indicator of future performance, as circumstances may change over time. Scope Markets shall not accept any responsibility for any losses of investors due to the use and the content of the abovementioned information. Please note that forex trading and trading in other leveraged products involves a significant level of risk and is not suitable for all investors.