Apple Inc. Annual General Meeting Preview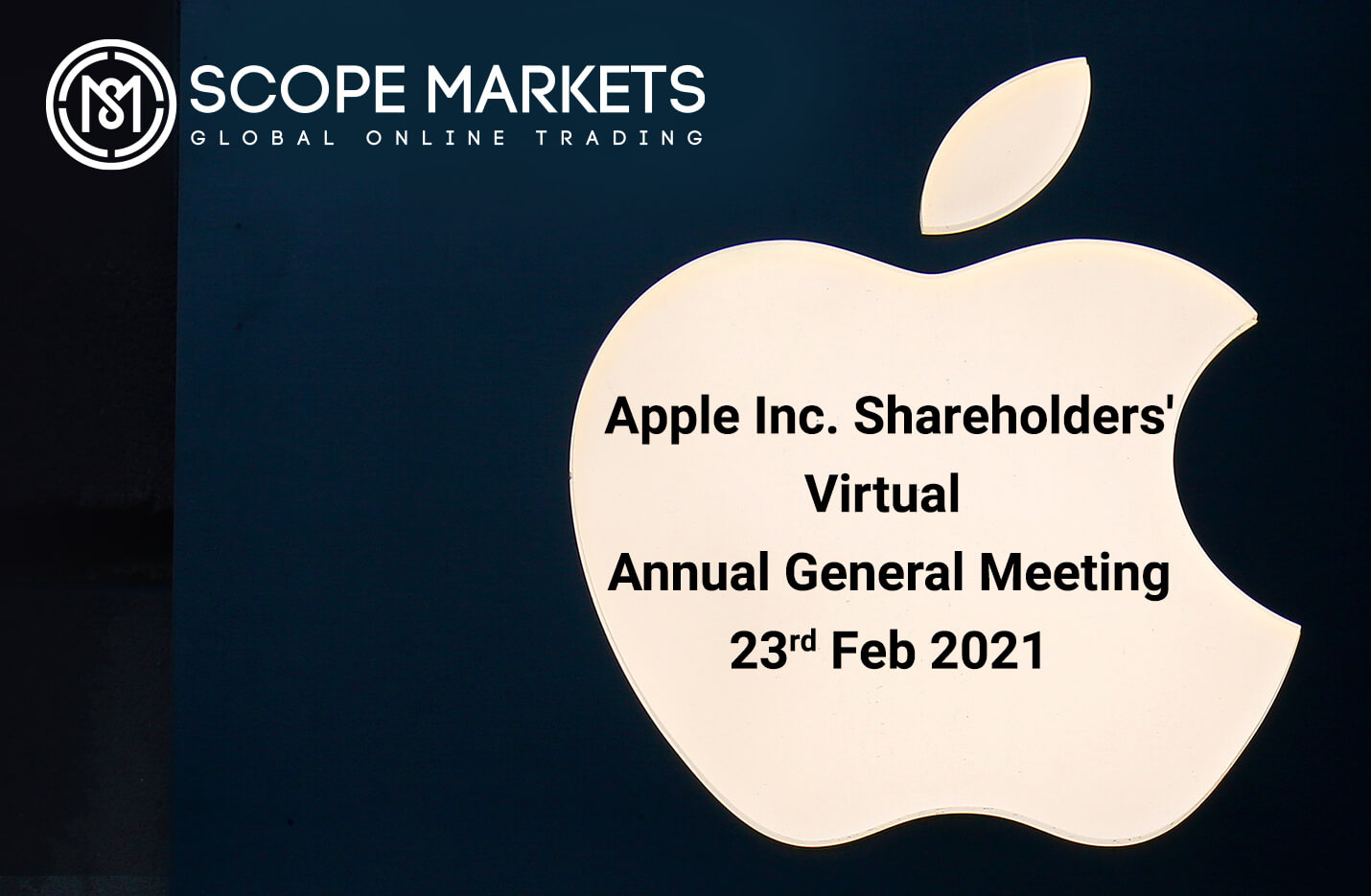 Apple is set to hold its shareholders' virtual annual general meeting on Tuesday 23rd February 2021. At this meeting, shareholders will get a chance to question the board on several rumors that have been crisscrossing the markets. Items of business will include re-electing the Board of Directors (BOD), ratifying Ernst & Young LLP as Apple's public accounting firm, and voting on shareholder proposals.
Key Takeaways
Shareholders are expected to push for higher Apple dividends during the virtual AGM
Apple is expected to make clear the rumors about accepting cryptocurrencies as well as investing in Bitcoin.
Apple is expected to clear the air about its electric vehicle plans as well as virtual reality smart glasses.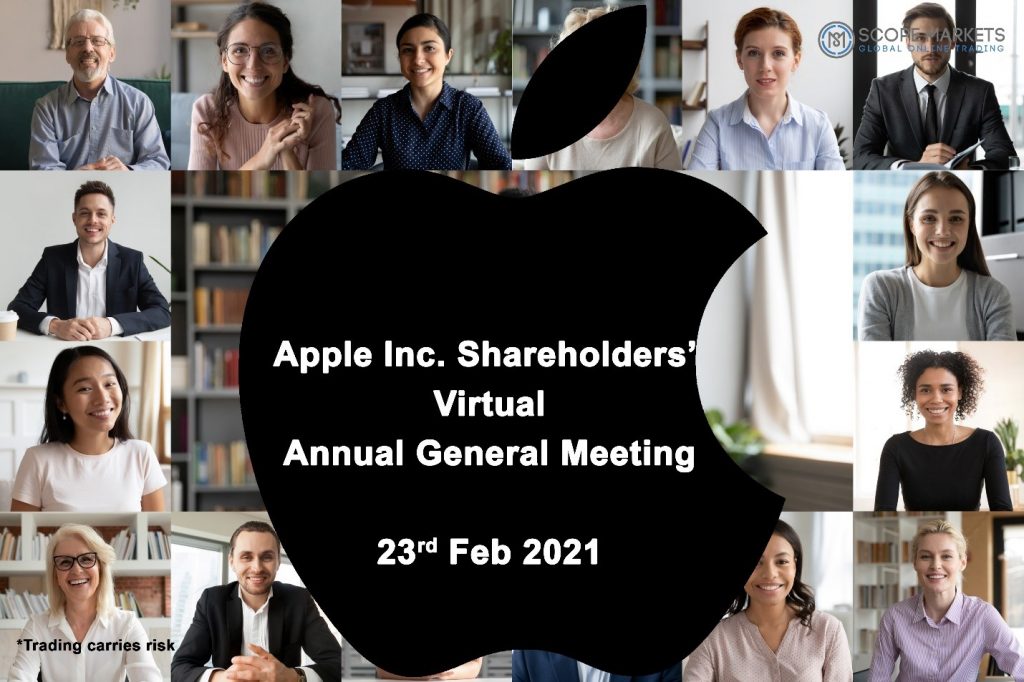 Shareholder meetings by Apple are usually not very interesting since the executives don't usually bring up new product information to the public on this event. However, there have been a few exceptions in the past.
This year, we expect the usual complaints by shareholders about low dividends. Apple has been issuing $0.205 per share for the last 5 quarters considering the recent 4-1 share split. With the company beating earnings expectations throughout the pandemic, stockholders will be looking for a higher dividend payout.
However, since Tesla announced their intent to receive cryptocurrencies as payments for their products as well as investing over $1.5B in Bitcoin, shareholders will most likely want to know whether Apple is planning to invest in Bitcoin and other cryptocurrencies.
With more American citizens owning cryptocurrencies and using them to purchase merchandise online, there might be a question about Apple accepting cryptocurrencies as payment for their products and services.
On Friday last week, Bitpay announced that BitPay's Prepaid Mastercard users in the US can now add the card to their Apple wallet. This implies that Apple Pay will now allow Bitcoin to be spent online by Apple users. Bitpay announced that they will be targeting Google Pay and Samsung Pay by end of March 2021. This is a clear indication that Apple is now allowing Bitcoin transactions in its ecosystem, but the executives have not endorsed it yet.
Questions about Apple's electric vehicle are expected to be raised. This is in terms of timeline as well as strategic partner. There are rumors that Apple could announce a strategic EV partner in the next 3-6 months. Potential suitors include Hyundai Motor Company, Nio, and Volkswagen. The plan is to have an Apple iCar on the road by 2024 as announced in their last earnings call.
As for existing Apple products, Apple is expected to launch an expensive, niche virtual reality (VR) headset ahead of its widely rumored AR smart glasses. Investors may raise questions on this product, especially on its viability and pricing.
The last and most critical question we expect is about the reason why Warren Buffett's Berkshire Hathaway sold $7.4B worth of Apple stock in the 4th quarter of 2020. Even though that is an estimated 0.30% decrease in Warren Buffet's total position, investors might seek to understand why Buffet is reducing and not adding.
Rufas Kamau
Research & Markets Analyst
Scope Markets
---
Disclaimer: The article above does not represent investment advice or an investment proposal and should not be acknowledged as so. The information beforehand does not constitute an encouragement to trade, and it does not warrant or foretell the future performance of the markets. The investor remains singly responsible for the risk of their conclusions. The analysis and remark displayed do not involve any consideration of your particular investment goals, economic situations, or requirements.