Investing in Forex or Stocks!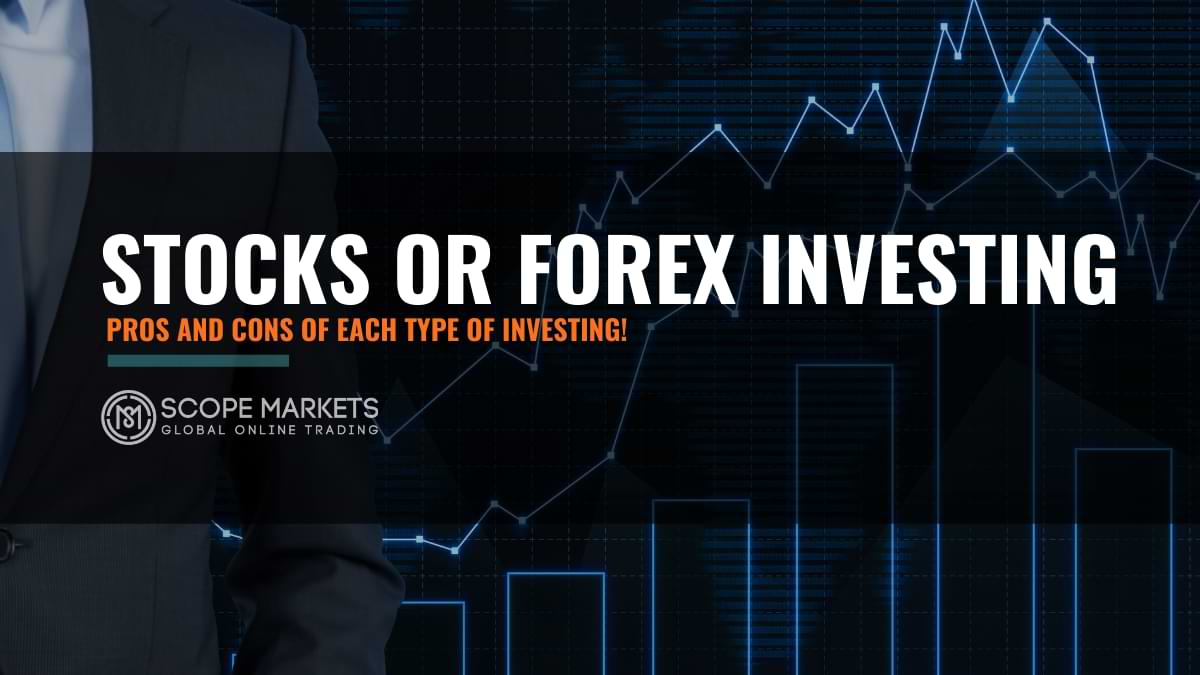 If you are trading the first time, and you are attempting to decide on which to invest. Then, you may have come across a common dilemma that traders generally encounter. Is it more beneficial to go for investing in Forex or Stocks market?
Forex or Stocks – Which One is More Money-Making nowadays when trading and investing are as simple as making a few clicks on your system? Then, the query of which of these you can go for turns out unnecessary. The recent question is which one you must choose to trade, and that's what we will discover today.
Forex or Stock market- Which One Seems to be Better?
There is no significant answer to the query of which one is better. When we compare forex or stocks, there are advantages and disadvantages to both. It sooner or later depends on how essential those points are to you on an individual basis. Let us have a glance at the summary of both markets first. And after that, we can draw a few conclusions on Forex and stock market trading.
There is decentralization in the Forex market. It shows a trading interface of associates from the whole world. There are a few big players present in the Forex market. And they include investment groups, primary banks, hedge stocks, and financial companies.
The stock market is the underlying name. That's assigned to the mixed assembly of buyers as well as sellers of stocks. Shares in an organization, as the name implies, provide a share in the holding. Generally, though not forever, these transactions get done on stock markets. So, to boost capital, many organizations select to float their stock's shares.
Stock markets offer a clear, organized, and accessible marketplace for buyers. Thus, they can do business with sellers. Trading on these markets has been actually done by free outcry. But, the trend in current years has been completely shifted towards electronic trading.
The stock market is very much popular. But it is generally gone beyond in size by the Forex, which is the biggest fiscal market in the whole world. When we compare the Forex market with the stock market in the sense of dimension, Forex is the clear winner. Why consider the dimension? The bigger the dimension of the Forex market, the bigger will be its liquidity.
---
Now, we compare both the markets on the basis of the points given below:
Forex or Stocks – Possible instruments
When we talk about possible instruments, stocks are definitely not making it clear. There are actually lots of them for you to select from. Some stock traders resolve this issue by analyzing as many stocks as they can. And then select a few and adhere to them. They will generally trade with these ones and avoid the remaining market.
But, some traders tend to pursue a chance in place of expecting it to reach them. They can move from stock to stock, thus investing in those that appear to grow. And, going on when the condition begins to take a shift for not so good.
Then we come to traders of the forex market, who have got a much simpler condition. All they have to do is get skilled at learning the changes in some currencies. Indeed, a sole pair, including 2 currencies, can be adequate for people who want to be experts. Currencies see modifications every time. And buying a single and trading it next to the other. And, then inverting the procedure when the condition varies is a much simpler process to do this.
Trade 50+ Popular Shares With Low Margin Requirements.
Timings of the Markets
Since you may be conscious, stock market trading is not present 24/7. Indeed, you may only do it all through business hours on working days. Also, it gets closed wholly on the weekends. This signifies less chance for trading, which may be an issue for some individuals.
And, in the Forex, you can trade 24 hours every day all through workdays. Whereas this market also gets closed for the weekend. It is yet a lot more accessible than what you receive if you choose stocks.
Forex or Stocks – Technical Review
When we talk about technical review, this must not worry you much. This can be one of a few features that will be the same. All in all, a chart is a chart. Once you know how to interpret one, you can go through any other present there—no issue in the market or the tool in a query.
Definitely, the condition is quite different when we talk about:
Basic review
When it is about investing in stocks, you have to know many things about companies whose shares you want to trade. You must have a deep knowledge of the balance sheet. And, all types of different financial details.
It is a bit simpler with forex. Since you only need to consider the countries' market whose exchanges you're trading next. Besides, it will be best to have a feeling for public opinion. Knowing what people consider about a currency can be a sign of what the exchange might do.
Apart from that, there is not enough that you can or should do. Because forex trading doesn't need that much investigation. You actually need to stay in the correct place. And, at the proper time to take benefit of a growing opportunity.
Forex or Stocks – Liquidity of Each
Liquidity can be difficult when we talk about trading stocks. Because you can sometimes attempt to buy or sell and wind up by not getting your request fulfilled. This generally takes place when there's no liquidity. Signifying that nobody is selling or buying at that particular time.
Definitely, that generally happens when you trade stock of an anonymous company. And whose stocks are well traded. Larger companies don't generally have that issue. But then, a few traders don't want to go for larger companies' shares. Because they view potential somewhere else in developing startups.
Something similar to this is almost difficult to occur with forex. Because currencies are being exchanged every time. If there's a market with the assurance that your request will get filled, then it is the one. When this may not occur, the only condition is if there is a tragic event that can get the systems destroyed. But, if nothing like that takes place, you will not at all feel the absence of liquidity.
Forex or Stocks – Leverage
After some time, when tradesmen get some knowledge, they generally get fascinated by the idea of leverage. Daily trading becomes very tedious. Or probably they wish to try and make huge cash. Thus, feeling assured and thinking that they can deal with the increased risk. And, actually, some tend to be very good at it.
But, when we talk about stock trading, they may get frustrated. Because when they find that the biggest leverage they will get is particularly 1:2.
This will only make a variation for several of them. The condition is hard, a lot more useful when it is forex trading. Where the least ratio tends to occur at 1:33, and the largest at 1:100. Generally, this is very riskier. The benefits are also huge, much bigger for those who are eager to take any risk.
Forex or Stock – Which represents a simpler Trade?
When it is about trading, there is no long-drawn such a thing as simpler or tougher. All types of trading, from a technical viewpoint, is straightforward nowadays.
But, when it is about how to be a great trader, both are rather tough.
There are no alternatives to this. You would have to give some time to know, even if you choose to go for the forex or stocks market. Easy to say, you will have to learn how the market operates. And the best method to perform this is a mix of principles and practice.
Before the assumption goes, you must read opinions, foresight, patterns, and information on how these markets operate. You may also follow experts on social platforms and get their views about markets.
You can also read legendary Forex traders and their thoughts and quotes about trading and Forex.
When it is about stocks, you have to examine the company whose stocks you are buying, consider its plan, status, administrators' status, associates, and almost everything.
References:

Rockfort markets – Forex vs Stocks which is more profitable
Rockfort markets – Which is harder to trade forex or stocks
Benzinga – Stocks vs Forex
Forex or Stock – Final Words
So, which one is more beneficial, investing on Forex or Stocks market?
In conclusion, there is no correct response when we talk about better- stock or forex. It relies more on your individual trading pattern as well as choices.
If you want to generate a huge profit, forex is generally the best method to go. If you have persistence and the resolution to do ample research. And, then go for long-term investments; shares or stocks are the best methods to move ahead. If you wish to make short-term stock trades, then you may perform that too. But, you must not foresee big price modifications regularly.
The verdict is yours, and your choice is all that matters more. Once you settle on that, and you do some careful research. Then, you will be capable of moving ahead. And, generate profits by using the price modifications in your stock selection.
---
Disclaimer: The article above does not represent investment advice or an investment proposal and should not be acknowledged as so. The information beforehand does not constitute an encouragement to trade, and it does not warrant or foretell the future performance of the markets. The investor remains singly responsible for the risk of their conclusions. The analysis and remark displayed do not involve any consideration of your particular investment goals, economic situations, or requirements.