Top 10 Most Famous Forex Quotes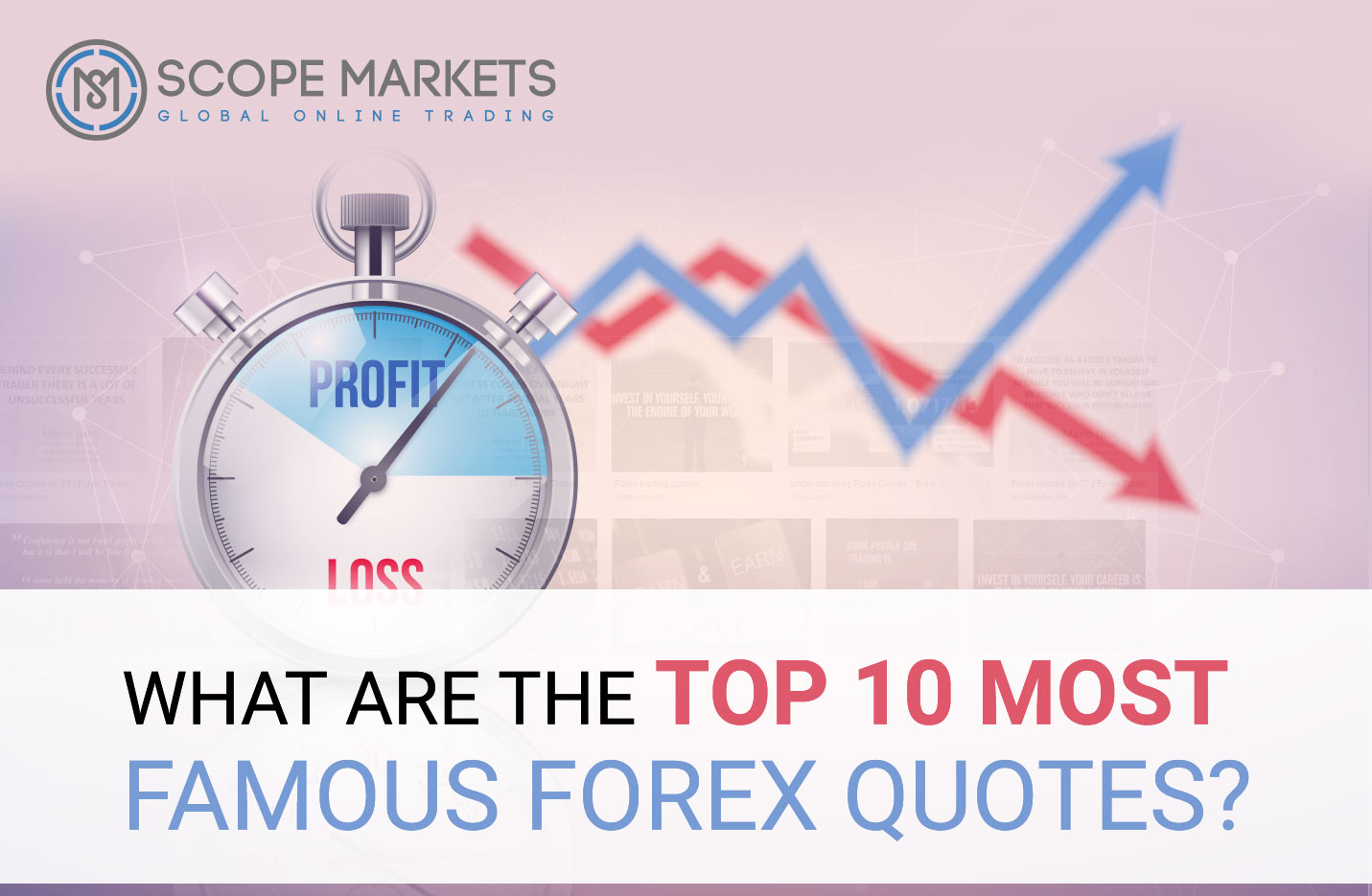 Technically, Forex trading is all about understanding what to trade. Forex trading is more like travelling on a big roller coaster – joy and enthusiasm combined with feeling frightened, worried, or even infrequently weak. When those sad moments take place, it is important to keep quiet and not despair. One great thing to perform all through these problematic times is to read some inspirational Forex quotes from top traders and find the way to huge success. Inspiration is fundamental in succeeding in this sector!
You can learn from them and prepare for your trading or you can learn from the history of Forex. How everything begun and what has been changed since then.
These top 10 most famous Forex quotes must provide traders with acumen to be ready and thoughtfully address their trading and they can change your life.
Motivational Forex trading quotes are exceptional, and even if a trader is undergoing a falling ridge or has inflated their trading account, it is very simple to lose energy.
Traders should keep going ahead, and a list of motivational Forex trading quotes can stoke the fire and work as the best motive force.
Read these top 10 most famous Forex quotes

1. Jack Schwager

There is no single market secret to discover, no single correct way to trade the markets. Those seeking the one true answer to the markets haven't even gotten as far as asking the right question, let alone getting the right answer.
Number 1 most famous Forex quotes goes to Jack Schwager. Jack shows out what's credibly the most underestimated feature of Forex trading and why it so popular. There's a common notion between traders that a definite code would concede the most favorable outcomes with the smallest sum of drawdown.
The key question is, do you hold the enthusiasm, dedication, and flexibility to get it?
If yes, then the rewards would be huge.
2. Joe Vidich
Limit your size in any position so that fear does not become the prevailing instinct guiding your judgment.
The finest Forex trading strategy in the whole world will not make you any good if you let sentiments lead the logic.
Also, what's the number 1 cause traders quit to sentiments?
The concern of losing cash.
But that worry only turns out exhausting when you let the possible loss go beyond your compassion level.
Thus, by keeping this in mind, the most reliable method to alleviate this concern and let logic control is to decrease your position extent until you are 100% happy with the money loss. If that signifies speculating as small as 1/2 a ratio of your account balance for each trade, so imply it.
3. Marty Schwartz

My attitude is that I always want to be better prepared than someone I'm competing against. The way I prepare myself is by doing my work each night.
It's easy to ignore that trading is a 0-amount game. In the commercial markets, each profit or loss is usually offset via a loss or profit of a similar size. In different words, for each prevailing trade, there should be a falling one and the other way around.
As per Marty Schwartz, you need to be very well qualified than your opponents.
That does not signify you need to enter every day with the belief that you have to generate more cash than different market partners. Indeed, this way of consideration can send you in problems very fast than you may state the word.
What does it signify, yet, is that you need to keep in huge time and work than those you are up next to it if you want to succeed. Since, in the end, each time you purchase or trade, there's somebody out there performing somewhat contrary.
4. Ed Seykota

Win or lose, everybody gets what they want from the market. Some people seem to like to lose, so they win by losing money.
We like these Forex trading quotes, and this is one of the top 10 most famous Forex quotes.
What Ed Seykota is stating by this quote is that a few traders are their enemy, and several who trade Forex take too much risk, trade frequently, and do not do sufficient research previous to keeping their cash at risk. When we talk about trading, traders need to be 100 per cent sure that they possess what it considers to turn out profitable but still stay open-minded to stay away from their blunders.
5. Jim Rogers

I just wait until there is money lying in the corner, and all I have to do is go over there and pick it up. I do nothing in the meantime.
Tolerance is the main thing for getting trading success. Out of it, you would fast get yourself trading substandard setups and losing cash.
Not alone that, but there's a contingency cost that befalls with excess trading. As this is one of the top 10 most famous Forex quotes, it needs an open mind to identify positive trade settings. If you daily control yourself to the fear and stress of dropping trades, you would always avoid the settings you must be considering.
By keeping low and anticipating the most promising chances, you fast keep yourself in a good position to check and capitalise on incompetence in the market.
6. Steve Clark
Do more of what works and less of what doesn't.
We surely understand what you are thinking – that is an apparent quote, and if it was that simple, then everybody would get a huge success.
Also, we would concur with 1/2 of that idea. It's an obvious comment, but that doesn't create it simple. Nor does it make it a regular event amongst traders.
Indeed, we would show that the preponderance of traders never really sits down to assess their gainers and losers. That is what Steve Clark is pointing to here since the only method to understand what works very well and what does not speculate on the past events.
Thus, to facilitate his point, start checking your profits and losses alike. You may get startled by what you discover.
7. Bill Lipschutz
If most traders would learn to sit on their hands 50 percent of the time, they would make a lot more money.
How normally does a genuinely positive trade order come together with?
As the response would differ based on the timeframe you trade and your standards for what you consider to be agreeable, a normal response will be not very regular.
We would go as far as to state that if you are exchanging the four-hour and regular charts, you can get 1 or 2 trade settings for each week that are meriting the risk.
That is due to you cannot have possible profits without the linked risk. And, amongst the 2, you must always treat yourself with the risk previous to even considering the profit possibilities from any single setup.
8. John Maynard Keynes
The market can stay irrational longer than you can stay solvent.
Number 8 most famous Forex quotes goes to Mr. Keynes. John Keynes, the founder of Keynesian economics, said that markets may keep fallacious more than they may stay moderator. He stated this shortly after departing one of his trading accounts first in his vocation.
Markets are innately biased. When you consider a market generally thought to fall on adverse data, it urges and vice versa. If you have been doing Forex trading for any period, you understand this occurs.

You should never attempt to defend your position from the inside. In different words, don't make yourself convinced that you are correct. In its place, use what is occurring in the market to choose even if your trade position is still favoured.
9.George Soros

George Soros, one of the most legendary Forex players.
It's not whether you're right or wrong that's important, it's how much money you make when you're right and how much you lose when you're wrong.
What is your winning rate? Is it more than or under 50%?
It does not imply. Also, not only even if it is more than or under 50%; it does not matter much.
Since George Soros has looked out, what is relevant is how much you generate when you are correct and how much you expend when you are mistaken. That is it. And, other things are unnecessary.
Let us assume for a while that after a provided trading month, you winded up with seven missing trades and only three gaining trades. Thus, your winning rate for the month was only 30 per cent – which would relate to a costly month as per common wisdom. 
10. Michael Carr
Don't worry about what the markets are going to do, worry about what you are going to do in response to the markets.
Number 10 in most famous forex quotes belongs to Michael Carr. The quote given by Michael Carr, in our viewpoint, is one of the very disparaged quotes.
Like traders, we are living in the market of reacting. It is one of some experts where it reimburses to accompany apart from lead.
By letting the market take an initial move, we may play safely whereas at a similar time utilizing market incompetence.
Conclusion – top 10 most famous Forex quotes
Thus, you know the top 10 most famous Forex quotes packed with enlightenment. These top Forex quotes are usually controlled with powerful strategies that would surely help you perform very effectively in your monetary life.
You can combine this with the top 10 important events in the world of Forex.
References: https://www.mitrade.com/forex/learn-to-trade/investment-strategy/best-trading-investment-and-trading-quotes-ever
https://sashares.co.za/forex-trading-quotes/#gs.uxkgb9
---
Disclaimer: The article above does not represent investment advice or an investment proposal and should not be acknowledged as so. The information beforehand does not constitute an encouragement to trade, and it does not warrant or foretell the future performance of the markets. The investor remains singly responsible for the risk of their conclusions. The analysis and remark displayed do not involve any consideration of your particular investment goals, economic situations, or requirements.